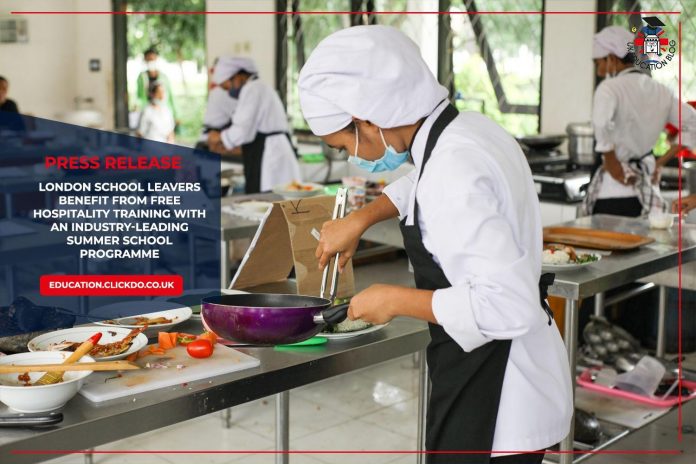 A group of school leavers from London have been able to kickstart their careers in hospitality with free, sponsored training from the UK hospitality charity Springboard.
Aimed at school and college leavers aged 16-18, Springboard's Summer School programme is a free two-week course. Made possible through sponsorship from the Worshipful Company of Innholders, the programme comprises four days of training and five days of work experience, with prestigious businesses including the Hilton Waldorf and The Royal Lancaster providing placements for participants.
The London Summer School programme saw eleven local students participate in various workshops and develop their CVs and interview techniques, with additional elements focused on developing valuable Health and Safety, Food Hygiene, and Customer Service skills and enabling them to gain three industry-related qualifications in these areas. Students also visited Park Plaza Waterloo, where they received a hotel tour and took part in a mocktail-making class – and one candidate even secured a place at the Raymond Blanc Apprenticeship Academy at the end of training.
Discussing her participation in the programme, Vera K (age 17) said,
"I am passionate about a future in the food industry, and I am very tenacious and open to new adventures. Springboard's Summer School has allowed me to further my knowledge, whilst also progressing my work experience."
Participant Neha S (age 16) said:
"Springboard's Summer School has been a fantastic way to learn new skills while opening up opportunities to work in the hospitality industry".
Chris Gamm, CEO of Springboard, said:
"With the hospitality sector taking a big hit over the last couple of years, the Summer Schools is an important programme to introduce new young talent to the world of hospitality. It's more important than ever to keep the idea of a career in hospitality at the forefront of students, teachers, and parents' minds. We hope the students taking part will be able to take a pivotal role in the recovery of the sector, through the injection of talented and motivated individuals to the workforce and the promotion of the industry."
Sue Davison, Head of Apprenticeships and Early Career for Sodexo, said:
"Sodexo believes that it is essential to be involved in programmes such as Summer School to be able to showcase the vibrancy and diverse opportunities that are available within the hospitality industry. By supporting with work placements, we can nurture a young person's talent and introduce them to the opportunities that a career with Sodexo can bring, and ultimately be able to offer them employment and apprentice opportunities. We must support future talent into roles within the industry and turn their talent into worthwhile careers that can span the world."
During the summer holidays, Springboard will host three more summer school-style programmes in Manchester, East Anglia, and Northern Ireland.
Upon completing the course, participants will have access to employers, with the potential to gain full or part-time employment.
For more information on Springboard, visit https://springboard.uk.net/.
-ENDS-
About The Springboard Charity and Springboard UK
Springboard was established in 1990 to support the hospitality, leisure, and tourism industry and those seeking employment within it, with three key aims:
To advance the life and education of those under the age of 25, through the provision of advice, training, and skills courses.
To relieve poverty and unemployment by assisting people to secure jobs in the hospitality sector.
Tackle ongoing problems the hospitality, leisure, and tourism industries face, including staff and skills shortages and misrepresentation about what a fulfilling career they offer.
What we do
Working nationally across the UK and Ireland, our work is built around three key areas:
Employability training programmes – helping disadvantaged people gain soft and hard skills, industry insight, and work placement opportunities- leading to overall improved wellbeing, enhanced employability, and transition to positive destinations including employment/further education/an apprenticeship/etc.
Education programmes – working with schools, colleges and universities to enhance curriculum teaching delivered to students – helping them gain key industry insight and skills development required for the transition from education to employment
Careers resources and advice – providing specialist careers activities online, face-to-face and at careers events.