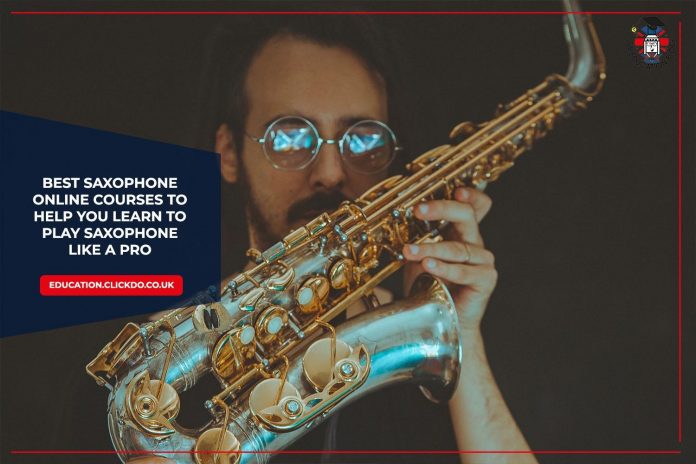 Are you looking to build your saxophone skills to learn to play saxophone in a short period? You can achieve learning how to play saxophone with the help of online music lessons provided by the top saxophone experts around.
The following recommended saxophone courses online are not only flexible—they're very affordable, too. You get to learn right from the comfort of your own home, which is particularly great for people who prefer to remain at home mostly or who cannot travel easily.
If your primary goal is to learn to play saxophone like a pro, then these are the six best online saxophone lessons to try, which have received the best and most reviews and which are accessible either through trusted eLearning platforms or through the instructor's personal websites.
1. Udemy Complete Beginner Online Saxophone Classes by Karin Kroch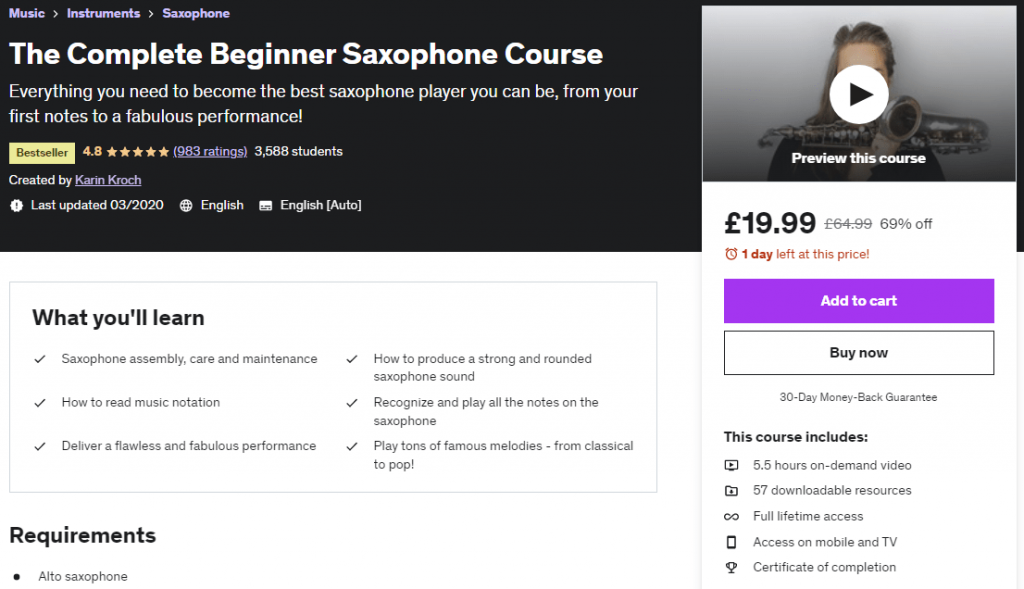 It goes without saying that you can get the best online saxophone lessons at the established eLearning platform Udemy. And for a mere £16 (current promo), professional jazz saxophonist Karin can help you train in no time.
Her course, like many others, focuses on the basics of saxophone playing. The syllabus includes the fundamentals of music theory, and backtracks, among many things.
As long as you have a working Alto saxophone, Karin can teach you the following:
Assembly and maintenance of your Cambridge saxophone (or whatever type you have)
Breathing techniques
Hand placement for saxophone reeds
Pitches and notes
Music notation
Major scales
Slurring and tonguing techniques
Articulation and dynamics
The video lessons include 63 parts, with a total run time of 5 hours and 34 minutes. There are also 57 downloadable resources, 20 of which are practice backing tracks.
2. McGill Music Sax School Online Lessons

If you want to play familiar melodies and play just like the advanced players you idolize, then McGill's is the best online saxophone course for you.
For as little as £19 a month, you can learn the nine levels of saxophone playing so that you may progress quickly. This Lite plan covers all styles, whether you have a Cambridge saxophone or a tenor saxophone.
The Lite plan also comes with a 90-day guarantee, so you can cancel anytime you want.
If you're looking for more features, you can go for the PRO plan, which costs £179 a month. It has everything from the Lite plan, plus:
Complete online saxophone lessons plus library access
Music teacher support
Access to a worldwide community
There's also a top-tier Accelerator plan, which comes with private lessons for as low as £200/month. Compared to free saxophone lessons, this is the surest path to success!
3. Udemy Beginner Alto Sax Lessons by Matthew Saxophone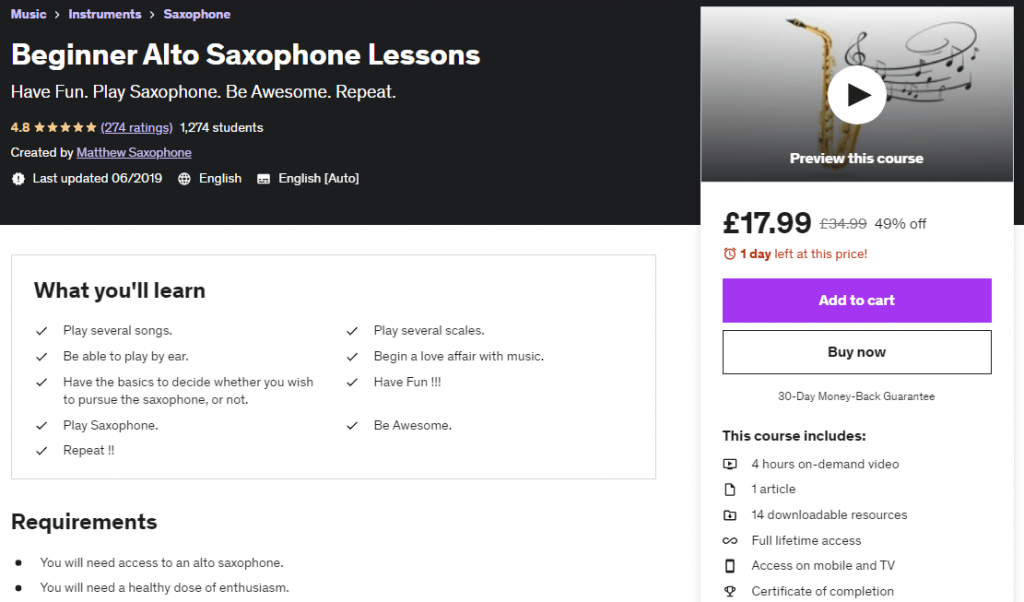 Maybe you're not the one who learns by reading sheet music. If you like to learn by ear, then this saxophone course for only £16 (current promo) is for you.
The paid lessons, which run for 5 hours, include 24 videos. They cover the fundamentals of:
Assembling your alto saxophone
Correctly using your tongue and mouth
Playing the first three notes
Learning new notes plus the C and D scales
Playing famous melodies
They also come with backing MP3 tracks that you can download (and listen to) whenever you want. If you wish, you can also download the free resources available.
4. ArtistWorks Jazz Saxophone Lessons with Eric Marienthal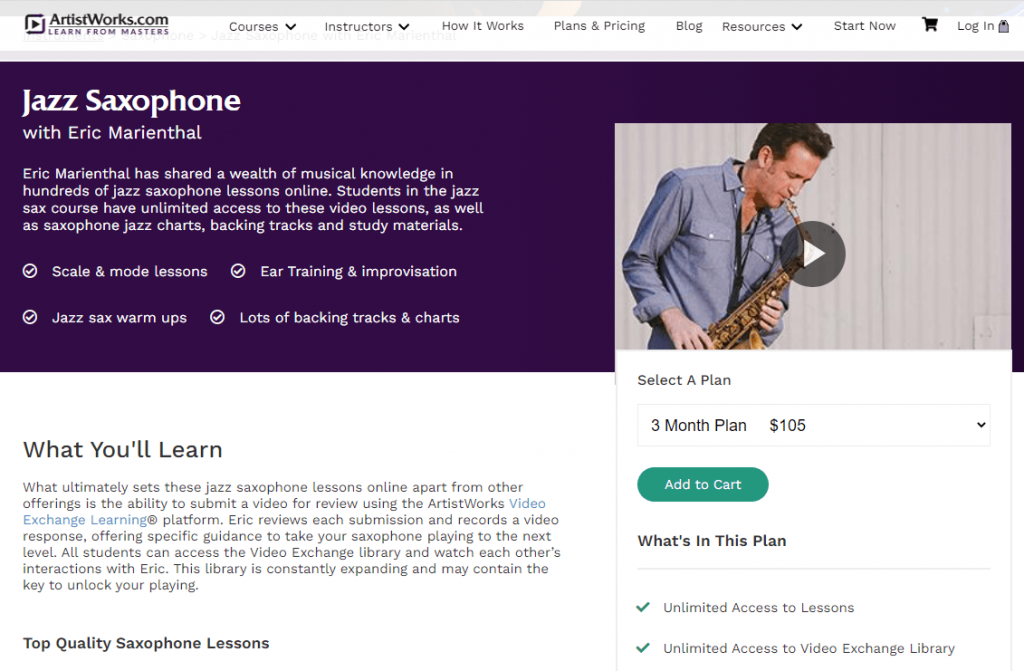 Do you want to learn from a renowned jazz saxophonist? Then it would be best if you enroll in Eric Marienthal's jazz improvisation courses.
Marienthal is known for his musicianship skills, earning him a Grammy Award. In fact, he has performed alongside the biggest names in music, including Elton John, Stevie Wonder, and Billy Joel.
His three-month plan—which costs $105—offers insights into saxophone playing. The syllabus includes:
Scale and mode lessons
Ear training and improvising
Jazz music warm-ups
Animated fingering charts
…and more!
5. SkillShare Free Sax Lessons Online

If you're looking for a comprehensive (yet free) saxophone course, then you can find several at the renowned eLearning platform Skillshare provided by different saxophone experts.
Many offer lessons on chord construction, scales, and 12-bar blues, among many other things. Learning to play saxophone music is easier with these free instructional courses.
Like most online courses, it uses a video exchange library. You can access all the video lessons in one go if you want!
6. Matt Otto Online Saxophone Lessons

If you don't have money for other online saxophone classes, you need not worry. You can always head to Matt Otto's website.
Here, you'll find free courses crafted by the Kansas University professor himself.
Otto's online course is packed with all the resources you need compared to other free saxophone lessons. He offers scale exercises, drones/play-along, and free sheet music, among many other things.
While you're sure to learn a lot from his free lessons, you can also sign up for his paid sax lessons online. It will cost you $30 per 30 minutes, but it's all worth the money.
Otto teaches saxophone lessons via Skype at your own pace, so you don't have to worry about time constraints. With his help, you'll play complex rhythms in no time.
Conclusion
There's a wealth of options in the online course and eLearning market, especially if you want to play jazz tunes on your sax like a pro. But if you like to get your hands on the best online saxophone classes available, then these six should be your top choices for saxophone lessons from the most highly rated saxophone experts.