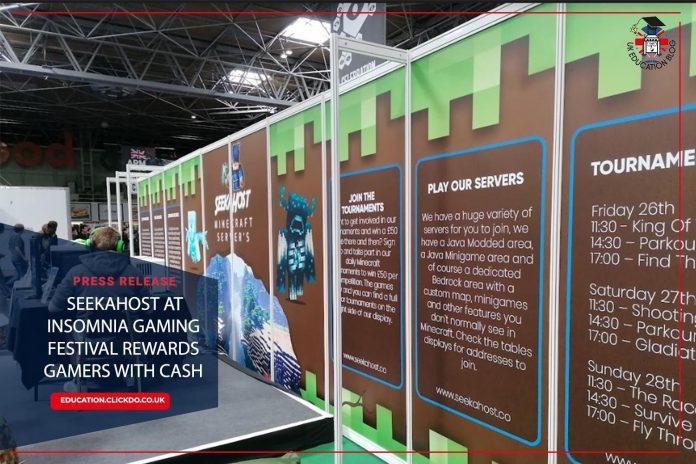 London, 31/08/2022
The Insomnia Gaming Festival returned to NEC Birmingham on 26-29 August with a showcase of the most notable gaming trends, challenges, and exciting new gaming products to emerge and many famous brands were involved.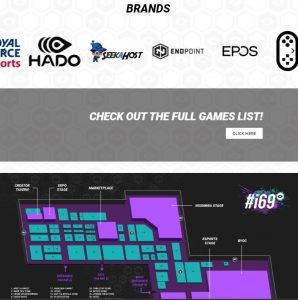 "Since the last edition of IGF in April 2022 we've seen many fantastic exhibitors with very innovative and creative displays on offer for visitors," comments Angela, one of the team of sales operations managers on site. "This year's events have been vital for the industry as a chance to come together outside the virtual world and discover all the trends, opportunities, and products in the real world."
Virtual reality and eGaming inspire the real world  
This year various exhibitors such as Royal Airforce esports and The Army Base Camp took advantage of bringing the virtual and the real world together at IGF by enabling visitors to experience simulations as well as physical experiences such as a climbing wall example.
UK Web Host and Game server hosting provider SeekaHost took on the challenge of bringing the extremely popular Minecraft game to the exhibition by offering a wide range of games and challenges for all age groups through the SeekaHost Minecraft Servers.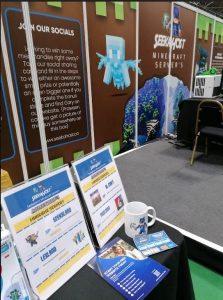 They offered quizzes and challenges that everyone could take part in by just using their smartphone and the QR code provided. However, they also offered free gaming on their SeekaHost Minecraft servers and tournaments for the real Minecraft gaming geeks to win a cash prize of £50.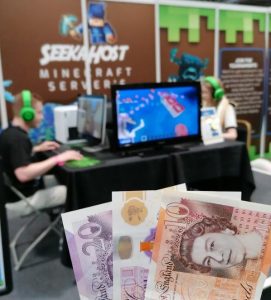 Showcasing high-end eGaming solutions 
Because Minecraft is an online game that attracts young and old, SeekaHost offered free Minecraft gaming on their Minecraft servers at the IGF on a first come first serve basis, which proved extremely popular as many visitors waited patiently for their turn.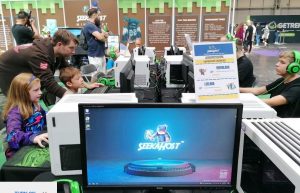 While they waited, many also took part in the quizzes to win a SeekaHost USB stick or Minecraft tournaments with races, parkours for 1v1 action to win cash prizes on the SeekaHost stage.
Celebrating early excellence 
The SeekaHost team, which closely works with the marketing team at ClickDo, celebrated the very young eGaming and Minecraft talents represented at the IGF as they braved the challenges confidently via their social media channels.
Parents and children alike were extremely happy to walk away with a prize as everyone was rewarded for simply giving the challenges a go, so everyone was a winner.
SeekaHost and ClickDo CEO Fernando Raymond, who also attended the festival, commented:
"It's been lovely to see so many young players join our Minecraft servers here and take on our challenges to win. We can see great talent emerging and want to encourage them to play confidently, eventually even building their own Minecraft servers. We provide a lot of guidance via our seekahost.co blog so that every gamer can grow their own online presence also with a blog or website managed with our easy-to-use SeekaPanel."
It is fair to say that the event was a big success for gaming enthusiasts and businesses alike, uniting them all in the wonderful world of gaming.
You can watch the highlights of the IGF with seekahost.co hosting Minecraft server games and competitions here: 
About Insomnia Gaming Festival
Founded in 1999, the Insomnia Gaming Festival originated as the i-Series; a small LAN (Local Area Network) event where gamers could come together and play together as part of one community. Today, IGF welcomes 40,000 visitors to Insomnia and the LAN parties have grown to the biggest in the UK, seeing 2,800 gamers in one space for a weekend of non-stop, 24-hour gaming.
About SeekaHost: a web hosting provider with a difference
Offering web hosting services since 2000 this company has grown and expanded over the last five years under the management of SEO agency ClickDo, providing a wider variety of web hosting services like SEO hosting, and PBN hosting, before being registered as a limited company. It now is an established web host offering services all over the world and innovating new hosting solutions. 
Manuela Willbold, PR strategist, ClickDo and SeekaHost, manuela@seekahost.co.uk
-ENDS-
Find more information about games and apps here: Free Online Games: Best Games Online You Can Play At Home | UK Education Blog (clickdo.co.uk).