English certainly is THE top language spoken worldwide, no doubt. In most countries it is mandatory to learn it and to be tested.
If you are considering to study in an English-speaking country, you will be required to pass an English language skill test beforehand so the university or college make sure that your English proficiency is to their standards. Additionally, you need to meet the language requirements of the UK Border Agency if you require a student visa and most native English employers are more likely to employ international staff with good English language skills.
What's tested?
There are several English language standard tests like the IELTS, TOEFL, PTE Academic or the Cambridge ESOL, but they all mainly focus on four language aspects: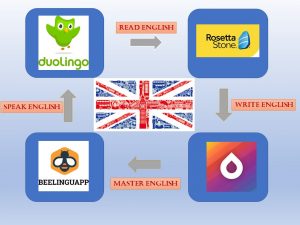 Reading

Writing

Listening

Speaking
How to prepare?
There are many ways to prepare for these tests such as attending English classes, reading test books and going through old tests. However, much more fun while learning the English language and vocabulary offer some of the hottest language-learning apps out there right now.
Based on the number of downloads on Google Play here is a selection of the 4 most popular free language-learning apps. See how they can help you with preparing for your English exams.
Duolingo
This language-learning app has been downloaded a whooping 100.000.000 times on Google Play! That's more than any other language app out there at the moment. In this video you saw that its use is super easy and fun. The exercises are short, you can set yourself targets and you'll receive daily learning reminders and in-app rewards when progressing with your learning. It covers all four areas by:
Reading: Letting you read words and sentences in your native language and English

Writing: Letting you write words and sentences in your native language and English when translating them

Listening: Giving you audio recordings of English words and sentences

Speaking: Asking you to verbally repeat these audio recorded words and sentences in English and translating into English verbally
You can have your initial English language level assessed by doing a test in the beginning. The app will then guide you from level to level to improve your English skills until you have reached your target level and fluency. Certainly an all-in-one tool!
Rosetta Stone
Lagging behind Duolingo with 5.000.000 downloads via Google Play this app has been around for over 10 years now and it prides itself with a true language immersion factor, claiming to teach you a new language like you've learned your mother-tongue. In the demo video you saw that it mainly works through daily speech and language exercises via online forums, chats and activities with speech recognition. It's much more speech-based and focuses on the verbal communication aspect mainly. Therefore, it mainly covers three areas of English learning:
Reading: with its online exercises and stories you are challenged to read in English.

Listening: by talking to others in English your listening and comprehension skills are improved.

Speaking: having to communicate in English with your tutor or learning community challenges you to converse verbally and the speech recognition technology applied in its activities supports your pronunciation.
This app mainly focuses on spoken language learning therefore, writing is not so much supported. However, for English exams this is a vital ability as you can't get the grammar and spellings wrong. So, mainly use this for verbal preparation.
Drops
As the name suggests this app mainly focuses on drop-feeding you new vocabulary in English within topics of your choice. Its current 1.000.000 downloads on Google show that it is popular maybe because of its simplicity – 5 minutes a day are said to help you expand your English vocabulary and improve your English language skills. Thinking about preparations for your English exams though this app can only cover two aspects out of four:
Reading: you read mainly nouns, verbs and adjectives in English as it's very word-based learning

Listening: You hear the English words being pronounced when reading them.
You would definitely need other resources beside using this app to pass your English test, but it surely offers fun and easy-to-use English language exercises if you ever get bored.
Beelinguapp
This "newbee" is proving to be increasingly popular with 1.000.000 downloads through Google. As you saw in the intro video it mainly focuses on teaching English through stories for all sorts of readers and interests. Stories of your choice are being read in your native language and English and you can repeat sentences or have them read out slower so you can practise using the target vocabulary, grammar and pronunciation. However, it doesn't offer speech recognition technology so you're your only judge. Therefore, it mainly focuses on two out of four language learning areas:
Reading: you read the text in English and your native language accompanied by audio recordings

Listening: you hear the text in English being read and can practise pronunciation and vocabulary.
Writing and speaking fall short in the use of this app unless you're so disciplined that you repeat the stories verbally and do additional write-ups about them. But if you love to read then this will certainly offer you an enjoyable alternative to boring textbooks.
Hopefully this brief overview offered you some useful ideas and tips on how to utilise what some of these free language learning apps deliver and how you can combine elements in order to be 100% English-proficient to pass any English test. Good luck!
Author Profile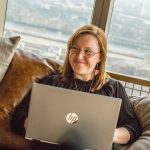 Blogger and Educator by Passion | Senior Online Media & PR Strategist at ClickDo Ltd. | Contributor to many Education, Business & Lifestyle Blogs in the United Kingdom & Germany | Summer Course Student at the London School of Journalism and Course Instructor at the SeekaHost University.