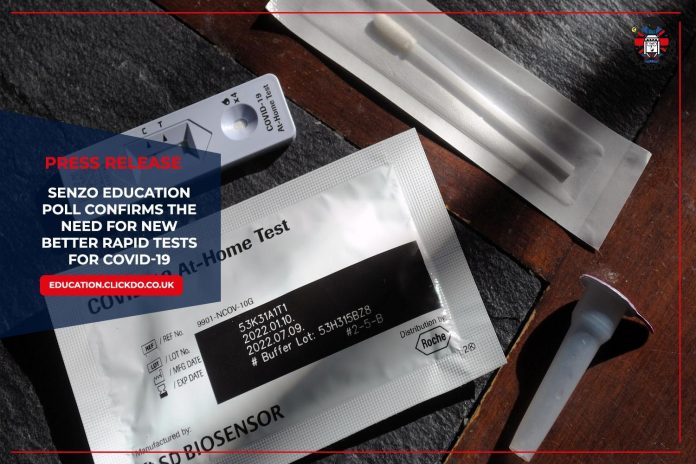 Introduction
A recent poll of educators conducted by Senzo, a novel rapid testing company, indicates that more accurate COVID-19 at-home tests are needed, and would be beneficial in increasing confidence amongst educators, parents, and students in the ability to minimize the risk of COVID-19 transmission via school attendance, allowing children and educators to better get back to pre-pandemic normal.
Main News
A new survey conducted on behalf of Senzo, a leading in-vitro diagnostics company, reports that approximately one-third (28%) of educators have received false results from rapid COVID-19 tests in the past, and more than two-thirds (83%) of respondents indicated that more accurate tests would increase their confidence in physically attending school, suggesting a strong need for better rapid COVID-19 tests.
As the developer of a breakthrough Amplified Lateral Flow (ALF) Test for COVID-19 with 10,000 times better sensitivity than existing tests, Senzo conducted this poll to gain insight into the opinions of educators, who due to the nature of their work, are often at a high risk of exposure to the virus.
The poll conducted online in January 2022 among a group of 100 US and UK adults ages 18 and older who are actively employed in the education sector, also found that 70% believe that accurate rapid testing is very important and 66% think a more accurate rapid test would be very beneficial.  These results continue to substantiate the importance of Senzo's mission to bring a better rapid-testing COVID-19 product to market.
"This poll provides further evidence of the need for better rapid testing to get the world back to normal, and Senzo is poised to deliver our ALF COVID-19 test to achieve this," added Senzo CEO, Jeremy Stackawitz.
The survey produced notable results, broken down into the following categories:
Experience with misleading test results – Nearly one-third (28%) of respondents reported getting either a false positive or false negative result from a rapid test for COVID-19 at least once in the past. This further confirms Senzo's stance that current rapid testing is not where it should be in terms of accuracy.
Testing accuracy is important to prevent the spread of COVID-19 – Senzo's poll also shows that 70% of respondents feel that accurate COVID-19 testing is "very important" in preventing the spread of COVID-19.
Testing accuracy in relation to educator confidence – Senzo's poll shows that 83% of adults employed in education would feel more confident attending school with their students and co-workers, or attending social gatherings if they had access to more accurate testing. More than half of those surveyed (44%) said it would make them "much more confident," while 39% said it would make them "moderately more confident."
The overall benefit of more accurate testing – When asked how beneficial overall they think a more accurate rapid COVID test would be for educators and students, the clear majority (66%) said it would be "very beneficial," while 28% admitted it would at least be "moderately beneficial." Only 8% of respondents said it "would not make a significant difference."
Accurate, rapid testing is key to the safety of teachers, students, and other school faculty members, but Senzo finds that current lateral flow tests are not sufficiently accurate (only 57.5% accurate according to independent evaluations conducted by UK NHS Test and Trace professionals), and PCR tests can take days to get results.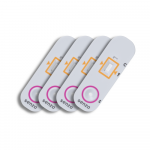 Senzo's ALF, soon to be widely available, solves these problems by combining the speed, affordability, and simplicity of a 7-minute lateral flow rapid antigen home test with the accuracy of professional PCR technology.
Additional Questions by the UK Education Blog answered by Jeremy Stackawitz
What do the poll results tell you about the current state of testing in US and UK schools?
It tells us that people are conceptually grateful for the at-home testing options available to them but that they are aware of the limitations, and inaccuracies– and are concerned about the ramifications of the false negatives inherent to the current at-home tests.  People would love a better at-home testing solution that maintains the good things about easy-to-use, rapid, inexpensive lateral flow tests but wants to improve their performance.  We, at the family and society level, are better off for having massive availability to these tests to allow us to return to our lives in settings of school, work, travel, and daily life.
However, 28% of people have experienced confusing and concerning results from testing, meaning they initially test negative at home and then find they are truly positive, perhaps days later, via PCR testing.  Most people are trying to do the right thing but find themselves realizing that they are likely spreading the virus in this interim period where rapid tests can't pick up their contagious infection, and they aren't aware they are truly positive until (and if) they validate with PCR testing.
Then this is repeated 10x, 1MMx times over and over and people realize that they and their children are likely constantly being exposed to contagious people who think they are fine, but despite their best efforts via rapid tests, are spreading disease, despite negative test.  The Senzo Amplified Lateral Flow (ALF) COVID-19 test fixes this by finding the true positives as early as PCR.  You can feel good then that you are not spreading to others, and as this is more widely adopted, you will not be on the receiving end of someone spreading unwittingly, because they are also using a Senzo ALF COVID-19 test. Additionally, where time is always a valuable asset, the Senzo ALF COVID-19 test provides a result in 7 minutes, compared to double that for most rapid tests (and 100x+ that for PCR).
How can testing accuracy be established (what is required to make testing more accurate so that readers are clear about the differences)?
The tricky part is that as an individual you will not immediately know whether a rapid test has delivered an accurate result or not.  You are just faced with trusting it or not.  We need to get to a point where we can absolutely trust that result, but that is not where we are today.  If we get a result, maybe we test again with a rapid test and then make the best call for ourselves, our family, and our community – and then perhaps follow up with a PCR test.
In the case of the poll, people realized they got a negative result because of a later comparison to a positive and definitive PCR test.  This can be traumatic as you may have chosen to not isolate, etc. based upon the original false-negative rapid-test diagnosis.
Would the new tests be affordable for public schools? Or how would they be funded?
Senzo is committed to providing our novel and superior ALF COVID-19 test at the same price point as current tests, foregoing any price premium we could charge for significantly better performance, to get these crucial tests in the hands of more people, faster.  We are working with retailers, distributors, and perhaps most importantly, government officials, to get the test approved as soon as possible and secure full access to school districts at little or no cost.
About
Senzo is an in vitro diagnostics company developing innovative, accurate, and accessible testing products. Senzo was founded with the vision of utilizing novel technologies, with a focus on enhanced sensitivity, to create mobile, point-of-care products and devices with the ability to accurately, quickly, and cost-effectively conduct testing where healthcare professionals and patients need it most. Senzo is creating game-changing products and systems which bring testing to the patient, eliminating the need for the current slow, expensive central-lab testing paradigms. With insights generated at the point of care, patients can make better decisions faster, and healthcare professionals can identify life-threatening diseases at an earlier stage, improving treatment outcomes and saving lives.
For more information, visit https://www.senzo.com/.
-ENDS-
Find more information about schooling news and developments here: schooling | UK Education Blog (clickdo.co.uk).