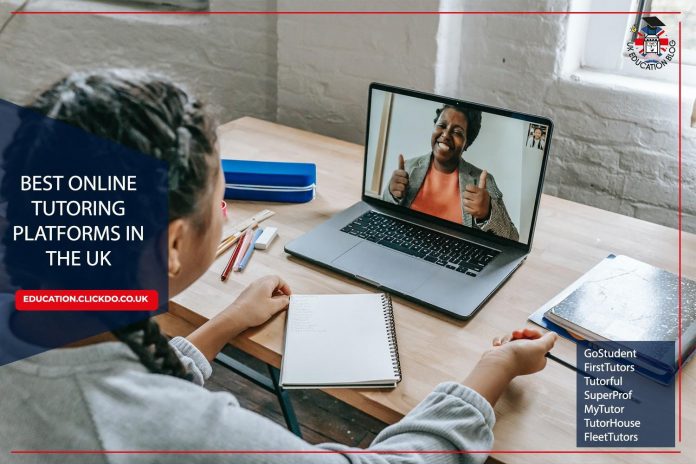 Online tutoring, unlike traditional face-to-face tutoring, proved to be most effective during the COVID-19 pandemic.
However, even after the pandemic, online tutoring is the preferred tutoring method of many parents as well as teachers and tutors, and working online in education is growing in demand.
Along with this growing trend, it gets harder to choose the best tutors online as we find increasingly more providers on the internet. It is therefore important to know all the options to narrow down the most suitable options.
So, here are 7 of the best-rated online tutors in the UK for you to explore.
1. GoStudent

One of the top online tutors in the UK whom the UK Education Blog recently interviewed at the EdTechX summit in London, has taken the UK market by storm, especially during the pandemic. GoStudent offer customised online tutoring classes and is beginning to implement AI for more individualised learning.
Website: https://www.gostudent.org/
Best features of GoStudent:
Students are different in their IQ and grasping power. GoStudent tutors accept that and treat everyone accordingly. They are available when and wherever you need them. Not only this, but they also acknowledge the child's progress to their parents. They provide affordable classes and make it easy for everyone to have one. Replacement of tutors has also been managed if a student doesn't find their tutors suitable for them. GoStudent is a kind of flexible Online Tuition that goes around according to students.
Subjects covered:
There are several subjects included in these courses like Math, Physics, English, and many more. The levels include A Level Tutoring, GCSE Tutoring, 11 plus exam Tutoring, KS4, Tutoring, etc.
Primary school tutoring
Secondary school tutoring
Long-term academic support
Homework help
Exam revision
Preparation for re-sits
Pricing
The price of tutoring starts from £21.60 per lesson, depending on the package you choose.
Reviews and Ratings:
With 4.5 stars out of 5 stars and 5800+ reviews on Trustpilot, GoStudent is clearly among the best online tutoring platform in the UK.
2. FirstTutors

First Tutors have thousands of tutors nationwide, covering a wide variety of subjects. There are no minimum or maximum limits on the number of hours you can book a tutor for. The services can be accessed 24/7.
Website: https://www.firsttutors.com/
Best features of First Tutors:
Students and Teachers working remotely are the new normal. As this is international home tuition, it gives access to many other countries in the UK. They allow students to choose a home tutor for any subject they need help with. Apart from learning, tutors of this organization make sure to introduce a student to adult life as well, which is so rare in a simple tuition class.
Subjects covered:
First Tutors helps in finding a tutor for any subject and level. Many courses including the classes are of:
Academic
IT
Business
Dance
Language
Arts & Crafts
Pricing:
First Tutors – £9.99 – £34.99
10 hours of tuition – £180
Additional Agency fees (10 hrs) – £0
Total – £185
The fees can vary according to the tutor's price per hour which makes the service affordable. Tutors' average fee is £18 per hour tutors charge upwards of £9 per hour)
The courses available are available for all age groups who require tutoring.
Reviews and Ratings:
With 5 stars ratings across most websites, FirstTutors have the best rating so far. It has got 4.8 stars out of 5 stars with 4100+ reviews submitted on Trustpilot.
Awards and Accreditations:
First tutors have always been in the media coverage for their great services. Moreover, they have won many awards such as,
Education Investor Supplementary Education Provider of the Year (we've won and been nominated as a finalist several times in this category).
Dedipower Sunday Telegraph Digital Awards (national finalists)
Working Mum Awards – Best SME (national finalists)
Big Chip Awards – Best eBusiness (winners)
3. Tutorful

Tutorful was born out of the belief that by bringing all the best tutors together in one place you could help anyone find the perfect tutor for them. They are now also providing one-to-one tuition.
Website: https://tutorful.co.uk/
Best features Tutorful:
This is a wholesome platform in itself. From chemistry tuitions to learning different languages it has all of it in them. They also offer special teaching for anyone preparing for any specific exam like GCSE. Tutorful has been an excellent help in reaching educational and social goals. This platform helps to groom completely. Here, you can compare thousands of tutors and then choose the one you want to go forward with your learning.
Subjects covered:
Here is the list of the most popular subjects in which they offer tuition. These are just courses under which many subjects still come so you may get the widest range possible.
Math
English
Science
Language
Music
Humanities and Arts
SATs
Computing
Special Educational Needs
Pricing
Lessons with our tutors will vary in price depending on the level of study, the subject selected, and the experience of the tutor.
Sessions generally cost between £15 and £35 per hour.
The courses available are available for all age groups in need of tutoring.
Reviews and Ratings
This online tutoring platform has got a solid rating of 4.6 out of 5 from a total of 3000+ reviews. Moreover, most of the customers strongly recommend joining here in their reviews about this online platform.
Awards and accreditations:
In the year 2017, Tutorful won the "Northern stars award", UK's most exciting pitch competition despite tough competition.
4. SuperProf

SuperProf is a teaching community of more than 20 million teachers from across the globe. It is spread across 42 different countries and imparts knowledge in 14 different languages.
Website: https://www.superprof.co.uk/
Best features of Superprof:
This is one of the most popular teacher marketplaces in the world with the involvement of 40 countries. Here, after the student is enrolled, the fees will vary according to tutors. It is not the same for all tutors and it is different for all 40 countries. There are over 1,000 subjects available on Superprof, which eases the way for students to learn different subjects from a single platform. For learning, they are trusted by many students and their parents.
Subjects covered:
Languages
Musical Instruments
Academics
Personal development and many more.
Pricing:
In the UK, it's £29 per month; it is roughly equivalent in other countries, allowing for exchange rates.
Reviews and Ratings:
Most of the reviews of super prof are positive. On the website Trustpilot, Superprof has an average rating of 4.1 out of 5 amongst 1000+ reviews.
5. MyTutor

MyTutor is the UK's most trusted tutoring platform by parents with a rating of 4.7/5 on Trustpilot. The tutors are experts in over 30 subjects from KS2 up to GCSE and A Level, so the schools use them to support their teaching.
Website: https://www.mytutor.co.uk
Best features of MyTutor:
Bookish knowledge can be attained by anyone. But the thing that makes a tutor a "good tutor" are the ways he/she explains the subjects. This makes a huge difference. Tutors who can empathize with their students and help them build confidence help teens unleash their potential, My tutor hires their teachers after seeing all these qualities explained above. Comparing this to other Home tuitions, this is affordable for a maximum number of people.
Subjects covered:
The courses offered are of both School Subjects and Career Related. The courses include:-
FOR SCHOOL
GCSE English
GCSE Physics
A level French
A Level Biology and many more
CAREER-RELATED
Communication Skills
University Prep
Pricing:
Tutors set their prices based on their experience and qualifications.
Starting from £20/hour at GCSE level.
Most of the tutors charge between £20 and £30/hour.
Age 15-18 Children can be enrolled in Career Related Courses.
Reviews and Ratings:
MyTutor has received 4.1 out of 5-star ratings on Trustpilot. Similarly, it shows 4 stars out of 5 on Google My Business reviews.
Awards and Accreditations
My tutor has been the finalist and award winner in various competitions. Some of which are mentioned below.
MyTutor is a finalist in the Bett Awards 2018
Education Investor Awards has given the Best private tutoring company award to my tutors in the year 2018
6. TutorHouse

TutorHouse is one of the leading tutoring platforms in the UK. They offer tuition for both online and in-person students from across the country and the globe. Their goal is to make learning accessible to everyone, no matter their age, level, or budget.
Website: https://tutorhouse.co.uk/
Best Features of Tutor House:
Providing the best and quality education to a student just by sitting in their home is what Tutor House does. As this is online, it eases a student's work to decide on their Tutors. They provide 30-minute free trials as well for students' opinions about them. Apart from this, you will get the recorded classes in case you have missed any. They provide the best and never disappoint their users.
Subject covered:
TutorHouse has an expert teaching faculty who teach subjects like Spanish, English, Physics, Law, French, Chemistry, Math, etc in their courses. The courses include
Common Entrance
UCAS & University
A – level Retake courses
Homeschooling
TutorHouse provides tuition from the age of homeschooling to adulthood. They tutor for Common Entrance Examinations for ages 11 to age 13 as well.
Pricing
The teachers, once selected and interviewed, are allowed to set their prices based on their experience. The payment style is flexible, and the deals come in a pay-as-you-go, bulk bookings, or package deals.
Private online tuitions start from €20/hr.
New Tutors
€20-€40
Experience = Less than 3 years
Intermediate Tutors
€40-€60
Experience = 3+ Years
Expert Tutors
€60-€90
Experience= 5+ Years
Reviews and Ratings:
On the most trusted website Trustpilot, TutorHouse has got a rating of 4.7 out of 5 stars from the learners.
7. FleetTutors

Fleet Tutors has helped over 100,000 students across London, the UK, and internationally, achieve the results they need in entrance exams, public exams, or catching up with their peers. Tutors come to your home or the location of your choice, and they also tutor online.
Website: https://www.fleet-tutors.co.uk/
Best features of fleet tutors:
FleetTutors has helped over 100,000 students across London, the UK, and internationally as well. They have a great network of private tutors and education experts who instill confidence and fast-track educational attainment by tailoring their teaching to the needs of your child. Their tutors come to your home or the location of your choice, and many can also tutor online. FleetTutors is giving both options for a student to learn. This is one of the well-reputed classes in the UK.
Subjects covered:
A wide variety of courses is offered which include several subjects.
Under 10s
7+11+13+Common Entrance
GCSE/IGCSE
A Level
IB Tutors
Special Needs Education
Pricing:
£75.00 / per-pupil tooltip icon.
Reviews and Ratings:
FleetTutors have received ratings of 3.5 stars out of 5 on indeed.com and 4.5 stars out of 5 on Facebook It has also been rated 4.4 stars out of 5 on the famous job website Glassdoor.
Conclusion
After considering all the available online tutoring options, you should be able to pick and choose the providers most suitable for your student's or child's needs. Analyzing and planning our moves even if they are for the basic level ultimately shapes our future.
Choosing from the best tutors in the UK we can now decide for ourselves which suits the best for us. Select the best and learn from the best today!
Author Profile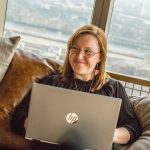 Blogger and Educator by Passion | Senior Online Media & PR Strategist at ClickDo Ltd. | Contributor to many Education, Business & Lifestyle Blogs in the United Kingdom & Germany | Summer Course Student at the London School of Journalism and Course Instructor at the SeekaHost University.