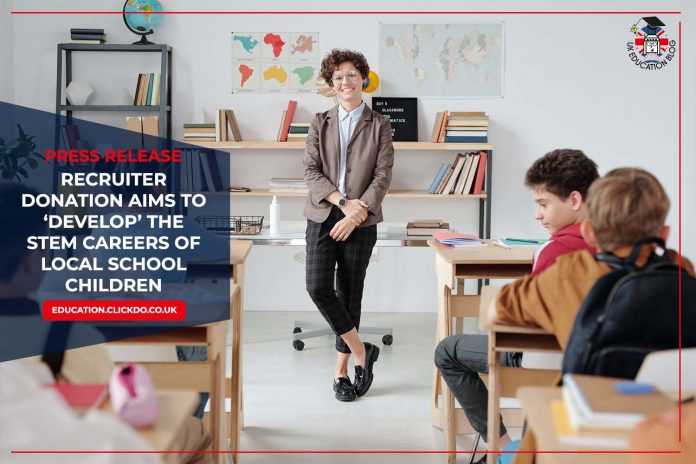 London-based recruitment firm donates £5,500 to local primary schools, as the first installment of a year-long partnership.
Investment in STEM-focused learning platforms aims to plug the talent shortage in tech.
LONDON, August 2022: A leading contributor to the software engineering sector has donated more than £5,000 to a London primary school in a bid to support the STEM education of local children.
Recruiter develop, which helps some of Europe's most innovative businesses, such as McLaren, Foxtons, and Capita, scale their software engineering teams, partnered with Canon Barnett Primary School in April in light of evidence that only 17 percent of primary school children aspire to a career in science. A pledge of £25 for every placement made in develop's 2022/23 financial year has already prompted a donation of £5,500, following a highly successful Q1 for the business.
Aiming to bridge the socioeconomic and gender gaps faced by the children of Tower Hamlets, develop will offer its expertise in the sector to advise the school on the best way of investing the money in STEM-focused learning platforms, equipment, and toys that will directly impact the prospects of the pupils. Coding robots, pocket-sized coding computers, programmable accessories, and activity sets will give these young children an early insight into the beginnings of coding, the more complex realms of AI, and more.
develop's Consultants will also be visiting the students at Canon Barnett to talk about what makes software engineering so exciting, and what opportunities will be available to them in the future. The aim is to help fuel future talent pipelines and lessen the talent shortages that are hindering the growth of the UK's STEM industries.
Sarah Bellerby, Head Teacher at Canon Barnett, said:
"The importance of this partnership cannot be underestimated as a means of promoting a more modern curriculum and encouraging our students to explore subjects that might have previously seemed inaccessible. These children hold the key to the successes of innovative industries, and it is extremely progressive to develop to start them out on the journey of understanding that careers in technology are within their reach."
Kevin Hammond, CEO of develop, commented:
"We're excited about the positive impact that our donation to Canon Barnett will have to the teachers, pupils, and their families. Working with tech companies every day, we see the lack of diverse representation in the sector, even though STEM jobs are projected to grow by ten percent in the next five to ten years and those in software development at an even more astonishing rate. Giving children early access to educational tools like coding robots and educating young people on the opportunities available is key to averting a crisis in years to come."
Joey Tait, Managing Director of develop, added:
"When we met the Canon Barnett students at the beginning of the partnership, we were amazed by their enthusiasm to learn more about computers, software, and other technologies. With the help of our partners, we will continue to present and educate these young people on the breadth of careers available in software engineering and what these roles involve. If we can inspire them to consider careers previously unknown to them, the partnership will have been a success."