Technology continues to impact the ways in which we lead our lives and it doesn't stop at education. Over the last years a trend has developed moving learning from happening in one place, like a university, to being accessible online.
Online learning is growing
Many educational institutions have begun to share their lectures on their own platforms for their students, but also on public platforms like Youtube or Coursera. Coursera was established in 2012 by two Stanford Computer Science professors, Daphne Koller and Andrew Ng, who put their courses online for anyone to take. This enabled them to give more learners access from all over the world. Now the world's best universities offer courses, which can be short ones to gain certificates or even 3-year courses to get a degree. When you complete a course, you'll receive a sharable electronic Course Certificate.
So, is paying £ 9,250 per year in England still a good deal?
The Institute for Fiscal Studies (IFS)  has recently published data that reveals how social backgrounds, choice of university and subject and exam results all impact future earnings. Their research shows that students from the richest households, who did the same subject at the same university, still earn around 10% more than their peers from less affluent backgrounds after 5 years from graduating. They could also show that students graduating at elite universities tend to have higher salaries and that studying medicine, economics or maths will also guarantee higher earnings compared to studying arts or social science subjects. These results show that getting a university degree doesn't always pay off as it depends on all these factors, if you'll actually earn the salary you desire. Looking at the cost for studying in England, which for UK and EU students could come up to "an average of at least £22,200  per year", for international students even more, you'd really have to ask yourself: will this investment be worth it?
The pay gap can be significant
The IFS puts it into perspective: "Graduates from those universities (e.g. Cambridge or Oxford) have average earnings of around £40,000 per year for women and more than £50,000 per year for men five years after graduation. By contrast, graduates from the lowest earning institutions have average earnings below £20,000." This clearly shows a significant gap and urges us to wonder whether paying off up to £50,000 in dept for getting a first or/and second university degree is really good value. As some graduates don't find a job right away and struggle to make enough money to afford a good life, let alone pay back their loans. Take Poppy Hunt for example. She graduated in Fine Art from the University of the West of England and works as a customer services assistant for Sainsbury's 39 hours a week, which makes it hard to build up the experience needed for her desired museum job and earning enough to pay back her student loan. Now, is the traditional model of studying at university still working in our favour?
What does the future hold?
Looking at these facts one really has to ask themselves what the best career options are. You don't necessarily need a degree to be successful. If you have a passion for something you can monetize it especially in the online world. There are plenty of examples from internet entrepreneurs such as Russell Brunson, who made millions with online marketing, to Vloggers and Bloggers – you name it. The beauty of the internet is that it gives us quick and easy access to so much knowledge. Through platforms like Coursera or Udemy we can watch lectures and tutorials about everything imaginable. Also Virtual College offers over 300 interactive e-learning courses for a variety of professions even in collaboration with employers or universities. Their courses range from £12 – £300, depending on the length and content, and you'd be able to study from home, not having the extra cost of accommodation.  Many experts in their field now create their own courses too and often those will give you a hands-on learning experience just as if you're working alongside them, being tutored one-to-one. Look at Fernando, CEO of ClickDo Ltd., and his expert courses on how to do SEO (search engine optimization) and digital marketing . And if you're interested in putting the learned skills into practice you can even become a franchisee – almost like being an apprentice, but better as you're your own boss and earning a full salary.
What's the right thing to do?
The digital age has so many opportunities to offer and we should be open to more diverse ways of studying and learning, not just following traditional models. Do your maths and work out which path leads to the best outcome, taking into account the cost, time, predicted salaries and demand of your chosen profession. Weigh your options carefully before committing to anything and do your research to make sure the investment you make for your education will offer you the return you're looking for. Choose the path that is most likely to get you where you want to be one day within your means.
Author Profile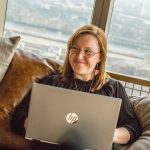 Blogger and Educator by Passion | Senior Online Media & PR Strategist at ClickDo Ltd. | Contributor to many Education, Business & Lifestyle Blogs in the United Kingdom & Germany | Summer Course Student at the London School of Journalism and Course Instructor at the SeekaHost University.