Scenario 1: Jenny tries cramming as much as she can the night before her economics paper, knowing that even an all-nighter won't be able to save her from flunking. She goes into guilt-tripping herself for procrastinating for so long and ends up getting a poor grade in the paper.

Scenario 2: Julian frowns at the corrected essay, his professor just handed out in class. The grade scrawled on top seems way lower than he expected. Turning the essay over, he finds it strewn with grammatical and spelling errors, that costed him a few precious grades.
If the scenarios above seem familiar to you, then you are not alone. Practically thousands of students all over the world face the same problems every day in their academic lives. But the digital age and the internet can change it all – for the better!
Read on to find out about the ten most useful apps that can lend you a hand in managing your student life way better than before.
10 game-changing student apps you need to try today
Need a handy assignment writing app? Say no more. Dragon Anywhere lets you write assignments faster than ever before.
What it's all about:
Uses speech-to-text technology
Converts what you say into written text
Is compatible across iOS and Android
Voice recognition software-enabled
What you can do:
Compose assignments, essays, emails, messages, and other documents
Copy and paste the text into other apps and interfaces
Save typing time to get ahead with other tasks like reading and research
An app to keep you off distracting apps, Forest is a modern-day distraction blocker. You can finally look up from your Smartphone screen to get things done on time.
What's it all about:
Gamified timer that counts time off your Smartphone
Collects points for every time milestone you cross
Has seed-to-plant simulations to keep you motivated
Is compatible across iOS and Android
What you can do:
Stay off your phone using the timer inside the app
Score points for each time milestone you overcome
Collect enough points to invest the same in Forest
Let the team behind the app plant a sapling in real life
If ever there was a note-taking app that did more, then Evernote has to be it. Keep your notes handy with Evernote, refer and cite like a pro in all your assignments.
What it's all about:
Saves your notes on-the-go
Has bookmarking and screen capture features
Can sync across all devices – Smartphone, laptop, tablet, and desktop
Is compatible across iOS and Android
What you can do:
Save and organize your notes
Use the built-in camera to take pictures of hand-written notes
Search for words and phrases in notes (even hand-written ones)
Neatly categorize notes according to subject and topic
A to-do list that keeps you on your toes, Focus To-Do is here to make you explore your potential to the fullest.
What it's all about:
Teaches Pomodoro technique for increased focus
Keep tasks chunked up in manageable timeframes (say 25 minutes)
Is compatible with both iOS and Android
What you can do with it:
Focus on the task at hand
Use the Pomodoro technique to get more done in less time
Practice mindfulness and concentration exercises
Report and re-order tasks throughout the day
Brainly has a community of scholars and students who exchange ideas and queries. If you have a query about your topic, you can pick the brains of a stranger for answers!
What it's all about:
Social network of students and experts
Hosts discussion threads on multiple subjects
Has an archive of discussion threads
Is compatible across iOS and Android
What you can do:
Ask a question to a scholar on your subject
Search among existing discussion threads
Get solutions to your study problems
Connect with scholars in your field of study
If you just have to press the snooze button a few times before getting out of bed, then Alarmy is for you. It will help you wake up in the mornings just in time to be ready for lectures.
What it's all about:
New-age alarm app with tasks
Comes with innovative objectives
Is compatible across Android and iOs
What you can do:
Solve a sum on waking up
Shake your phone the required number of times
Complete all kinds of sensory-motor tasks to stop the alarm
Manage to wake up on time
Say goodbye to drunk texting and party shenanigans you will definitely regret the morning after. Put a leash on your drunk self with Drunk Mode.
What it's all about:
Blocks notifications on social media apps
Locks contact list (leaving out emergency contacts)
Locks DM and messaging apps
Keeps track of your GPS activity
Is compatible across iOS and Android
What you can do:
Limit phone usage when drunk
Keep a list of contacts handy in case of emergencies
Retrace your activities using the Breadcrumbs feature
Look for your friends using GPS features in a crowded party
An app that turns studying into fun, StudyBlue lets you stay ahead on difficult topics throughout the term. From memorizing formulae to analyzing poems, you can do it all using StudyBlue.
What it's all about:
Stores over 400 million flash cards, notes and study guides
Has flashcards features to store your notes
Covers a wide range of subjects and specializations
Is compatible across iOS and Android
What you can do:
Track progress of your courses
Create and customize flashcards
Set reminders for quizzes and exams
Study content from classmates
Coursera is your go-to study buddy for tricky concepts and subjects. You can take up courses taught by professionals to score more marks in your exams and surprise quizzes.
What it's all about:
Provides online tutorials from experts
Lets you choose courses from renowned institutions
Is compatible across all devices, iOS and Android
What you can do:
Choose courses of your liking
Get expert help with your studies
Connect and network with scholars of your discipline
Be it emails, essays or assignments, Grammarly will be there to give you a hand with editing and proofreading. This wildly popular editing app can make your lives easier, and here's how.
What it's all about:
Editing and proofreading app
Checks readability, plagiarism, and engagement factors
Provides suggestions for polished writing
Is compatible with Android and iOS
What you can do:
Download plagiarism and grammar reports
Edit your write-ups for better scores
Get real-time updates on suitable phrases and words
Save your documents (and the changes) in the background
Parting words
From keeping fit to managing your time, there is an app for everything that you do nowadays. This post listed ten of the most helpful student apps that can make your life easier and faster. Who says being a student in the modern age has to be full of stress and anxiety breakdowns? Once you bring these apps into your life, you will find it easier to deal with stress as you keep making progress with your studies like never before. Let life take a turn for the better, use these apps to make the most of the time you get. Good luck!
Author Profile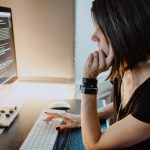 Shirley Brown, a blogger and writer, is also a full-time student counsellor. She assists students with their academic and career-related issues and enjoys writing blogs on education, technology and general news. An avid reader, she occasionally volunteers for a library-on-wheels program in her neighbourhood in downtown Melbourne.