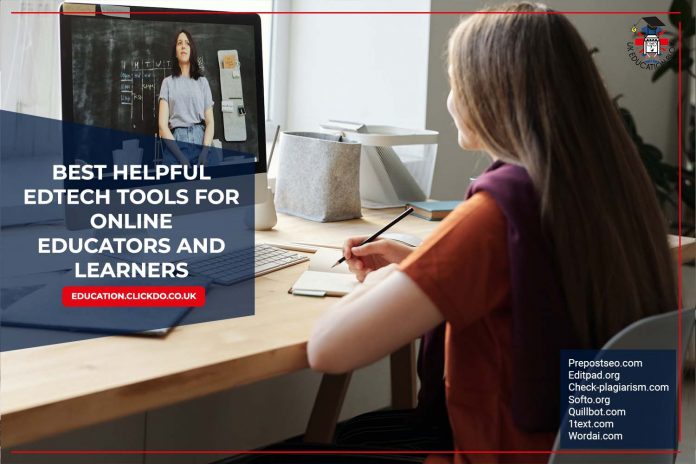 It is a modern era in which smart education is provided to children through online platforms. All the material about every kind of topic is just a single click away as remote learning is increasingly implemented.
Moreover, due to the recent pandemic, online learning platforms have gained popularity. No doubt that these EdTech tools have made education easier and more fun for students.
Best EdTech Tools
There are thousands of educational tools that can facilitate us with our assignments, thesis, and everyday learning tasks.
Let's have a look at the most famous 7 tools by which you can accelerate your learning and writing.
1. Prepostseo.com

The https://www.prepostseo.com/ tool can help online learners in many ways. It is a multifunctional tool that can be used by students, professional writers, and website makers.
For students that are related to the online learning process assignments and projects are always hectic work to do. But for educational purposes, Pre post-offer more than 24 tools that contain different types of rewriters, paraphrasers, summarizers, plagiarism checkers, SEO checkers, etc.
You can generate healthy and error-free content by using these tools. Similarly, if a person is learning about websites he can use the website management tools of Pre-post.
A website developer can check his website content and domain authority with these tools. These tools help in running a detailed website audit that tells about the on-page and off-page SEO ranking of websites.
Moreover, you can enjoy many other tools like OCR and text conversion tools. This is free software and requires a no lengthy installation process. Many of the tools of this software can be used through a mobile app.
2. Editpad.org

It is a famous tool among students that helps make notes and text edits. it is a bundled tool. You can check your notes thoroughly with it.
Firstly you can use it as a grammar checker. Just copy your text and it will remove all the punctuation and grammar mistakes from the text. If you have a rough text you can rephrase it using its paraphrasing tool.
Paraphrasing removes all the errors and difficult terms from the text. Content quality is enhanced multiple times and its readability increases. During the rewrite, it maintains the natural tone of the topic and sentence structure.
To avoid any kind of copyright issues you can also use it as a plagiarism checker. Every kind of copied material along with the sources from which the material has been copied is shown in the result.
This online notepad is free to use for note-taking. The interface is very supportive.in every kind of feature, it tells you about the word count and character count so that you can take check the length of your content.
The two best features of this tool are note-sharing and password protection. The notes that you made on Editpad can be shared with another user. You can also protect your notes on Editpad by setting a password so that no other user can access it.
It is supportive of every file format and is secure to use. This is an accessible tool due to its mobile app.
3. Check-plagiarism.com
As the name indicates it is mainly a plagiarism checker. To us, you can upload your file from local storage or can enter the URL if it is a webpage. it will check the plagiarism for you in a second.
Its processing is very advanced and quick due to modern AI technology. It breaks your content into sentences and then checks every sentence for any copied material. If it is found plagiarism indication is given in red. Similarly, unique content is indicated by the green colour.
Along with these indications, a list of the matched source is also provided so that you can compare texts side by side. It is very responsive and supportive. You can check 5 files of different formats in a single check.10000 to 15000 words can be analyzed in a single search.
It is also a bundled tool. You can paraphrase and summarize your text. For assignments, it can help in removing grammar mistakes and citations.
4. Softo.org
Softo.org is a professional tool that can help you with your education as well as with your professional writing career. it offers more than 215 tools for free. For education, you can check its paraphraser, rewriter, and summarizer.
All these tools help in enhancing the text quality. By using them you will get to know about your vocabulary and sentence formation mistakes. You will come across a large library of synonyms that help you to increase your vocabulary power.
On the other hand, if you are collecting data from different sources and have written it in the form of a single assignment then you can use its plagiarism checker. With this tool, you will know the exact percentage of plagiarized and unique content.
It also works as an SEO calculator for your websites. During website learning, you have to check its SEO ranking from time to time. These SEO calculators run a free audit on your website marking the search volume and domain authority of it.
5. Quillbot.com

This paraphraser is a next-level tool. Due to its multi-functionality and diversity, it is very popular among students and teachers.
It adds value and weightage to your content through its seven modes. Content can be made fluent, standard, and creative by these tools. If you want to concise your material you can shorten it similarly you can also expand it.
It gives a proper structure to your broken words and sentences. SEO optimization is also done by this tool. This tool is beneficial for citation and plagiarism. Chrome, Docs, and Word extension are their advanced features.
It has both free and paid versions. Due to its AI algorithm and modern thesaurus usage, it is very helpful for essays and article writing. You can make your projects creative and alive through it. Learning skills can be elevated and error-free content can be produced.
6. 1text.com
This is a very simplified tool that can be used as a plagiarism and grammar checker in academic writing. Its keen analytical processing makes it unique among other tools.
The plagiarism checker is very sensitive to every type of copied material. It can highlight every single check that has been copied. If your material is paraphrased it will pick up the wrong paraphrased sentences.
On the other hand, its grammar checker is very unique. it picks up all the broken sentences and wrong punctuations from the text. Multiple suggestions are provided to remove these mistakes so that you can choose your preferred one.
It is very sensitive to small errors and provides the results in seconds. You can use it freely without having security issues.
7. Wordai.com

This is a very handy tool for students and content writers. it is used for rewriting text. Whenever you write something it may have grammar mistakes. The sentences may have not had a proper structure. All these factors can create confusion in the mind of the reader.
All these problems can be eliminated through this rewriter. it changes the sentence structure very efficiently adding important words to it.in the same word, it removes all the unnecessary words to remove redundancy from the text.
The text quality enhances and originality remains at the point. You can represent your idea in a better way with this tool. The sentences become clearer and more definite. If your text has lengthy sentences it will split into meaningful parts without disturbing the meaning.
You can rewrite a single text about 1000 times. Complete security is given to your content. All the duplicate material is also removed to remain secure from copyright issues.
Conclusion
It is the time for smart education. Most of us use online platforms to gain information about every problem. They are a one-hand solution to everyday problems related to education
Similarly in education teachers and students use online tools that can seep up their teaching and learning processes respectively. Above are the 7 best tools by which you can make your writing clear, expressive, and engaging.
Anyone can use them to boost his career both educationally and professionally.
Author Profile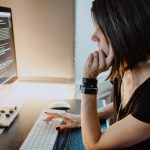 Shirley Owen is a blogger and writer who enjoys writing blogs on education, technology and general news. An avid reader, she follows all the latest news & developments to report on them through her articles.