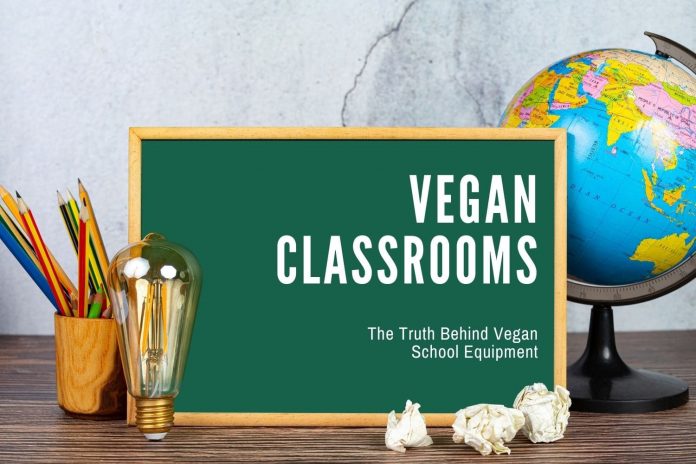 There's often a thin line when it comes to discussing certain ideologies in the classroom.
Under UK Human Rights Laws, Veganism is a protected philosophical conviction, and every parent has the right to provide an education for their children that's in line with their personal and moral beliefs.
Although vegan parents are certainly able to exercise this right to ensure that Veganism is a part of their child's education – unfortunately, a large proportion of teaching materials contain animal products or are tested on animals.
If you're concerned about how vegan your child's classroom is, then this little guide has everything you need to know.
Animal Products in the Classroom
When we think about animal cruelty in the classroom – the first thing that comes to mind is animal dissection during science class. However, in most cases, instances of animal cruelty at school can be much more subtle.
Sadly, the majority of office supplies contain various animal products or have been tested on animals to ascertain how toxic they are. This applies to all kinds of supplies, from whiteboard markers to the boards they write on!
Try to keep in mind that in most classrooms, it's not always possible to cater to everyone's ideologies at the same time. Whilst you might not always be able to completely remove instances of animal cruelty in the classroom, it is good to be aware of when and where your children may come into contact with non-vegan items.
This way, it becomes easier to work with both your child and your school to find cruelty-free alternatives to common classroom items.
Green and Clean
When we talk about Veganism in the classroom, it's often tied in with discussions about being eco-friendly.
Indeed, there are a lot of environmental benefits that can come from switching to vegan alternatives. The environmentally-friendly nature of the vegan diet is one key example, but switching to green, cruelty-free class supplies, like Simply Glass Wipeboards, can actually reduce the overall waste output of the school, and improve its 'recyclability.'
It can be frustrating as a vegan parent, especially when the teachers at your child's school take a different view.
The best way to tackle this situation is to be as courteous and well informed as you can be. When you voice your concerns, try to suggest practical solutions that can benefit the school as a whole.
Being involved and helping inform others is the best way to enact change within your community, get creative with your child, and build up a good rapport with the teachers!
How can we Make a Difference?
Here are some ingenious but surprisingly simple ways to enact real change in your child's classroom:
Choose bamboo rulers over plastic
Plastic rulers and pencil cases can contribute so much unwanted waste to our school environment. Bamboo options will not only reduce plastic in the classroom but will also bring down waste, as plastic rulers are notoriously fragile!
Switch your brands
Plenty of high street stationary titans like Pilot and Staedler are completely cruelty-free – so switching to these brands won't hurt your bank or any animals!
Humane pest control
Pest control is a vital part of running a school. Try to suggest cruelty-free insect-catchers for the classroom so that staff-members can catch pests humanely, and demonstrate to children that life is valuable.
Cruelty-free hygiene solutions
Hygiene in the classroom is paramount! Suggesting a switch to cruelty-free products can reduce the carbon footprint of your classroom and stop harmful chemicals from being released into the environment – all while keeping your kids safe!
Find alternatives
Find alternatives to Common plastic products, such as glass whiteboards, and wooden toys.
Art supplies
Art supplies are known for including animal products – but there are so many cost-effective cruelty-free options on the market, so the use of animal products in art supplies is unnecessary and easily fixed!
Update your filing solutions
Using paper cinches instead of staples, and selecting recyclable plastic wallets are excellent practical ways to keep your classroom organised and eco-friendly.
Final Thoughts
Although you can't control every aspect of the school environment, working with the school to make small changes, and being involved and informed can definitely help your cause.
By implementing a few small, cost-effective changes, you can really reduce the harm that your school does to animals and the environment!
Author Profile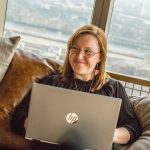 Blogger and Educator by Passion | Senior Online Media & PR Strategist at ClickDo Ltd. | Contributor to many Education, Business & Lifestyle Blogs in the United Kingdom & Germany | Summer Course Student at the London School of Journalism and Course Instructor at the SeekaHost University.