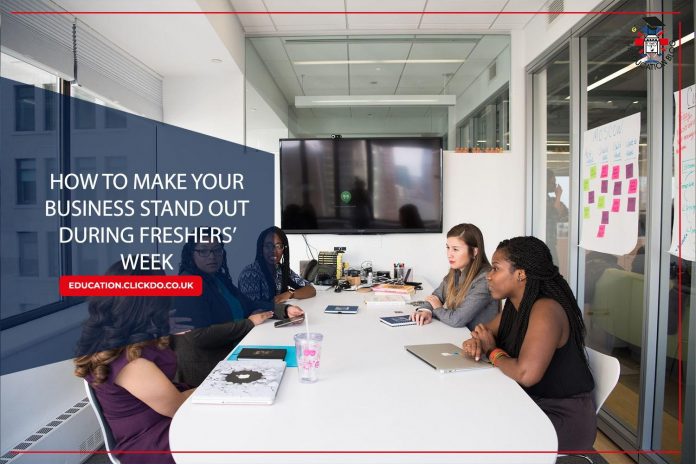 The next academic year is fast approaching, and if you're hoping to get some positive exposure for your business, the influx of new students and organised events during freshers' week can be an excellent opportunity.
So, whether you own a café, bar, clothing brand, or anything in between, bespoke print wear providers Custom Planet share their top tips on getting your business to stand out from the crowd this September.
Attend student events
During freshers' week, most students have just arrived in a completely new city, or even a new country if they are on an international study programme. They are therefore open to exploring what their bustling, exciting local area has to offer and will be looking for places to eat, socialise, and meet new people. Especially if your business is based in a major university city, this is therefore a brilliant time to engage and attract a whole new demographic of customers and gain some positive exposure.
Universities organise freshers' fairs and welcome days to greet their new arrivals, so securing a stall at one of these events is an important step to ensuring you engage with students. Often, organisers tend to look for local vendors to celebrate the area, a range of different career stalls, and when it comes to food and drink, a diverse range of world cuisines.
If you're interested in exhibiting, be sure to research what the university's requirements are, how many spots are available, and which businesses they tend to admit. This way, when you pitch your company, you can make a strong case as to why you would be a perfect fit for their freshers' week events.
Create a professional, attractive stall
Once you've secured your place at a student event, your next priority should be creating an eye-catching, vibrant stall that still looks professional. Since your aim is to gain better exposure for your business, it's important to use clear, cohesive branding across your signage, clothing, flyers, and any other merchandise you hand out. As well as making sure your name and logo are displayed clearly, keeping a coherent colour scheme and design will help to make your brand more memorable and recognisable.
Firstly, one of the most important things is having large, colourful signs that instantly convey who you are and what you do. Freshers' fairs are busy and packed with different vendors and employers, so using things like banners or free-standing feather flags that add some height can help you stand out from the crowd — quite literally! Secondly, it's wise to kit out the staff running your freshers' fair stall with branded clothing that clearly conveys your company insignia and name, complete with your brand colours. These details are a worthwhile investment as they help you look like a well-organised, professional team that's passionate about the brand they're representing.
Having a quick interactive activity at your stall can also be a great way to attract passing students and get them engaged without a complicated task or pitch. Having plenty of high-quality merchandise like pens, tote bags, travel mugs, and t-shirts to hand means you can also give out free, useful products across campus that will get your name and logo out there and help students remember you.
Offer free samples and discounts
Students are always on a budget, yet still want to explore the culture, food, and social life of the city they'll be living and studying in. One of the best ways to attract people to your stall and get your brand recognised is therefore the tried and tested method: offering free samples!
If you own a food or drinks business, then letting curious customers get a taste of what you have to offer will introduce them to your delicious menu. Not only this, but when people are at your stall enjoying the food, you have a great opportunity to network with them and create a positive, friendly experience they're more likely to remember. This means it's also wise to send your most outgoing, customer-facing reps to run your company stall so that they can help to get as much engagement as possible with students.
Capitalise on good exposure
Most importantly, don't let the exposure and engagement stop at the freshers' fair: once you've piqued the interest of potential customers, be sure to keep the momentum going and really make the most of it. Hand out flyers to advertise any student nights or discounts you have planned, whether that be during freshers' week or throughout the whole academic year.
While being active on social media and updating your website are important ways to gain exposure and brand recognition, it's equally crucial to follow these things through with in-person events that create a welcoming, exciting buzz around your business. Arranging several events closely following freshers' week can also help you get the word out about your business and capitalise on any interest you gained at student events.
Andrew Dark, Director, and Co-owner of Custom Planet comments:
"Especially if your business is based in a popular university city, freshers' week can be an excellent opportunity to gain exposure and recognition for your brand. By making the most of student welcome days, freshers' fairs, and other events, you can open your business up to a whole new demographic it may have been missing. Clear, modern, and coherent branding is crucial when competing for attention at events, as well as setting up an attractive, welcoming stall for your café, restaurant, bar, or whatever your business may be.
"Tried and tested methods like giving out free samples or branded merchandise are always effective, and it's even better if you can get creative with what you offer at student events. Opting for merchandise and a networking approach that aligns with or emphasises your brand ethos — such as championing sustainability or planning fun, inclusive social events — can really help to set your business apart from the rest."
About the brand
Custom Planet are one of the UK's leading print wear providers. Founded by Andrew Dark and John Armstrong, they've been providing the highest quality custom clothing and promotional products for brands since 2008. They offer a wide variety of custom products, including sweatshirts, hoodies, jackets, stationery, and backpacks, to name just a few. The team take pride in their outstanding customer service and has worked with high-profile UK brands and institutions, including Proctor and Gamble, Marriott Hotels, and Newcastle University.
For more information, visit https://www.customplanet.co.uk/