In a time where the average adult in the UK uses their smartphone every 12 minutes, is it realistic and, most of all, helpful to ban phones in schools?
Whether it's to do with work or hobbies or just daily life tasks – technology creeps into all aspects of our lives and if we want to remain in control and educated about how to use it right, is removing it the solution?
How to reduce abusive behaviours?
The current arguments for a ban, raised by people like the minister for school standards in England, Mr Gibb, and some other educators, mainly focus on how to reduce the risks of abusing the use of mobile phones.
However, what happens after school? Obviously, there will be plenty of opportunities to misuse a gadget and that's why it's vital to teach this generation how to use their phones responsibly.
The NAHT union, which represents school leaders, rightly recognises that phone bans in schools could potentially lead to more problems, such as "hidden" or "underground" uses and states that:
"Ultimately, schools work to prepare young people for the outside world, giving them the awareness and strategies to responsibly monitor their own screen use and the ability to identify and deal with any negative impacts or problematic content they encounter."
As Mr. Gibb rightly recognises that "ensuring children can regulate their own use of smartphones and social media is becoming an increasingly important life skill for them to learn.", we should ask how to do so.
Teaching digital literacy and skills
The necessary digital skills that are required for handling web activities responsibly can only be learned by actually using them in action, so called learning by doing. They include skills highlighted in the Digital Literacy Curriculum by the SWGfL such as 
Here you can see that having an awareness of the do's and don'ts online will be vital as anything we post, we're responsible for. So, students will inevitably have to learn about data protection, an online code of conduct, online regulations, copyright and so forth. By actually working within the real world wide web they can understand these laws in context and adults can model positive online behaviours.
Parents play an important part in this too. They should be informed about how to monitor their children's gadget use and which E-safety solutions are available to support them. In one of my previous articles I explain in more detail how blogging as a family can help learn digital skills, which can be applied to many other digital tasks and systems.
What's the right balance?
However, due to the growing volume of new technologies and online solutions, we need to find a way to tailor our learning to our needs. Recently, the debate about screen time made us step back and think: how much time should be spent on and off a computer or smartphone? Which ratio is actually ideal?
Latest recommendations for 8 to 11 year olds resulting from a study conducted by by researchers from the Children's Hospital of Eastern Ontario Research Institute, the University of Ottawa and Carleton University, all in Canada, which had 4,524 children participate in it, are:
– restrict screen time (including TV, smartphones, tablets and video games) to less than 2 hours a day
– sleep 9 to 11 hours a night
– do at least 1 hour of moderate to vigorous physical activity a day
According to their cognitive ability tests, children following these guidelines performed better in tests on mental functioning. And as many Chinese children now suffer from poorer eyesight at a younger age due to long screen times at school and home, it is certainly fair to say that young people's smartphone use should be monitored.
If the long term goal is to enable them to use the web safely and responsibly by themselves without adults checking and guiding them when online, the best way forward is allowing for a good balance of the computer and smartphone use at school and at home.
There are great apps helping smartphone users to track their online activities such as Forest:
They can be used by parents and their children so they can all keep track on their screen times and discuss how they could improve their results or even create a competition to increase motivation.
After all, it's about making reflected and healthy choices and unless we learn to analyse and adjust our own behaviours to act responsibly, we won't have the skills necessary to become educated digital users.
Author Profile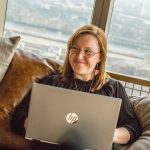 Blogger and Educator by Passion | Senior Online Media & PR Strategist at ClickDo Ltd. | Contributor to many Education, Business & Lifestyle Blogs in the United Kingdom & Germany | Summer Course Student at the London School of Journalism and Course Instructor at the SeekaHost University.