Any idea what your child does online?
The thing is, they probably don't even know and that's why e-safety and digital literacy are key nowadays! Everyone using the internet should learn about managing and navigating themselves through cyberspace securely and safely.
What is E-Safety?
This term basically covers safety online, on the web or on the internet in terms of children's safe and responsible use in connection with technology. E-safety is relevant for computers, smartphones, tablets and any other technological or digital device offering access to the internet.
E-safety covers many aspects of children's conduct online such as inappropriate content, sexting, online porn, online games, livestreaming and video apps, social media sites and apps and parental controls. The NSPCC offer a variety of resources and tips for parents in all those areas. As a concerned parent you can contact the NSPCC and worried children can look for help and advice via the Childline.
In schools all staff are trained on e-safety as most classrooms are equipped with devices enabling web access. Therefore, the same should apply to all parents using internet-enabled gadgets with their children at home. However, most parents or carers are left in the dark about this important and vital aspect of the online world.
How to be Safe Online?
Fortunately, there's a wealth of fantastic educational resources available for parents as well as teachers. Depending on your learner's age, here are a few expert tips provided by iaps.uk on how to keep your child or student safe online:
• Check the age limit on social media platforms and messenger services:
• To set up an account on Facebook, Instagram, Twitter; Tumblr, Reddit, Secret, Snapchat, Pinterest, Habbo, Google+ your child or student needs to be 13 YEARS OLD.
• On LinkedIn their minimum required age is 14 YEARS and on What's App it's 16 YEARS.
• If their account is in your name or registered via your phone contract, you're legally responsible for ANYTHING happening. The same applies for your child's account, if they're not over 18 years old yet.
You can find more legal guidance in the Prevent duty's statutory guidance regarding online safety and radicalisation provided by the UK Home Office or the Department for Education's (DfE) (2021) Keeping children safe in education (2020): statutory guidance for schools and colleges. All schools in the UK are required to follow this guidance and they should inform parents about how to implement some of it at home, especially during lockdowns as children are being home schooled mostly online.
As a parent you can ensure you're in control by
• Creating a rule book for online use at home and outside
• Limiting screen time and when engaged with a gadget make sure you can get access easily, e.g. they're not locked in their room
• Being consistent and explaining why these rules are important and what consequences can arise
• Downloading GALLERY GUARDIAN – if you are contracted to your child's phone it sends an alert of inappropriate images
• Downloading OUR PACT – an app allowing you to switch off the apps on your child's phone, and to a schedule
• Trialling CIRCLE WITH DISNEY – an application that claims you can manage all devices in your home setting time limits and turning off individual apps.
• Check these tips on Busythings for your child/student:

Why Early Intervention matters?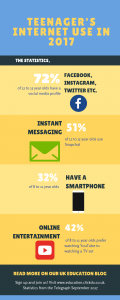 According to a Telegraph article from September 2017 quoted by iaps.uk
• 72% of 12 to 15 year olds have a social media profile,
• 42% of 8 to 11 years olds prefer watching You Tube to watching a TV set,
• 51% of 12 to 15 year olds use SnapChat,
• 32% of 8 to 11 year olds have a smart phone,
• 34% of 12 to 15 year olds have encountered "hate speech" on online in last year and
• 21% of 12 to 15 year olds play games with people they have never met.
These statistics clearly show that the internet offers many opportunities for children to be exposed to potentially harmful content or contacts. It is a great place for people to prey on vulnerable and naïve individuals while remaining anonymous. And being helpless or uninformed in such exploitive situations can lead to dangerous, humiliating and traumatic incidents.
Nobody wants their child or student to experience anything like this and that's why every little piece of e-safety information matters. If your child is into gaming then you can read more about managing parental controls, age limitations and what parents need to know on the seekahost.co blog.
Support your child if they are being exposed online to:
Bullying: Children may experience being excluded from a game or a group on social media or messaging platforms by their friends. They may experience verbal abuse through criticism regarding gaming, social media posts or whatever public online activity they participate in. This can be upsetting for a child and they may not know how to deal with it emotionally or how to respond to it online appropriately.
Trolling, griefing and scams: Trolling and griefing can occur in e-games where players try to negatively impact other gamers and their game. Children may also be exposed to be tricked or scammed into purchasing in-game or in-app items through hackers or unknown people entering their game or connecting with them their platforms.
Grooming: Because e-games and online platforms often offer communication tools like live chats, messaging and chat functions, voice and video calls etc. younger children are in danger of being contacted by strangers. They may pretend to be a friend of a friend or somehow build a connection with your child to build trust. Children don't understand how to identify potentially dangerous communications and could be manipulated to do things they don't want to do such as connecting with strangers on different platforms, signing up to other accounts or even meeting someone somewhere in person, which could lead to them becoming dependent on that person and following their instructions blindly.
A way to empower your child or student and to learn managing an online presence safely and responsibly first hand is to start their own blog or online journal. Under adult supervision creating and running a blog can offer the learner many opportunities to improve their digital skills to become an educated digital citizen.
For more information on where to start with a blog check out the following:
Current Trends & Discussions in E-Safety for Children
Children are exposed to digital devices from a very young age and learning the digital skills to manage them responsibly is key to ensuring their e-safety and well-being online. Plus, it will be useful for their future career path as the future of work focuses increasingly more on digital work in most industries.
You can check the outlook provided by the OECD in terms of how work will be influenced by technology and what this means for employment, schooling, work training and higher education. Many retailers have been impacted by the pandemic and are moving online as more customers shop online. The same trend applies to other industries such as food, media and press, education and health care and many more. It is therefore key to start as early as possible to raise children safely online and equip them with digital skills required later on to protect their identity and financial future.
Most recently this topic has been discussed in a documentary called Kids On Tech, which shares intimate conversations with parents, teachers, neuroscientists, tech executives, child psychologists, and kids of every age from around the world in the hope that this film can help start a conversation about all the questions that remain unanswered with regards to technology use among children of all ages. You can watch the trailer here:
Author Profile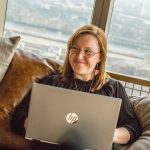 Blogger and Educator by Passion | Senior Online Media & PR Strategist at ClickDo Ltd. | Contributor to many Education, Business & Lifestyle Blogs in the United Kingdom & Germany | Summer Course Student at the London School of Journalism and Course Instructor at the SeekaHost University.