For some, choosing a future career is simple, and they might have a clear idea of what they want to do now and for the rest of their lives. But for many students across the country asking themselves "what career should I do?", choosing a career path is a real challenge and one that comes with a lot of anxiety and insecurity.
Here are three common mistakes people make when

choosing a career path

.
Some may be anxious about meeting expectations, while others might assume that their passion may not translate into a full time living. This is why it's important for students to understand their career choice so as to avoid crucial mistakes in the process.
Ignoring Industry Numbers

Some people might assume that some careers are lucrative and that there will never be a decline. In other cases, people will simply pay little attention to the numbers, and enter a field strictly because they like it.
Industries go from boom to bust all the time, and entire segments can disappear overnight. For instance, fields like mortgage brokering are cyclical in nature, and demand always fluctuates. Other markets become saturated, like law for instance. So instead of basing your choices on assumptions, make sure that you look at the numbers and the prospects.
Have a look at some jobs that didn't even exist 20 years ago to understand why it's important to think carefully about your career path:
Going for Your Passion
This isn't going to be popular with everybody, but the idea of simply following your passion is overrated. No matter how passionate you are about a subject, if you lack the basic skills for it, you'll be unhappy, and might not even be able to get through your studies.
You should first look at your strengths and weaknesses, look at job profiles, and determine areas where you could thrive. If you need more information about different career paths, we strongly suggest you browse through these job profiles at University Compare. You'll get a full rundown of the skill set required for every job, what kind of tasks will be required from you, and information about salaries.
You'll also get a general idea of job prospects in the industry. This will give you a clearer view of what you can expect, and you'll be able to see if it would be a good fit for you.
Choosing Money Over Everything
At the other end of the spectrum, you also don't want to simply go for a job for the money. For instance, entering into the healthcare field might seem like a good choice career-wise, but if you don't enjoy serving people, or even worse, are squeamish at the idea of dealing with illness and injuries, then you'll be miserable.
You must find a compromise between what you're good at, your general interests, and remuneration. Going for the money only is a sure-fire way to burn yourself out. Instead of opting for a career that will pay you well for a few years until you eventually quit, choose a career where you'll be able to at least gain seniority, and feel great working in.
These are just some of the major mistakes people make when picking a career. If you manage to avoid them, you'll be that much closer to finding the best career for you.
If you're considering online work in education then check out our guide here.
Author Profile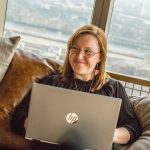 Blogger and Educator by Passion | Senior Online Media & PR Strategist at ClickDo Ltd. | Contributor to many Education, Business & Lifestyle Blogs in the United Kingdom & Germany | Summer Course Student at the London School of Journalism and Course Instructor at the SeekaHost University.