Many college students have experienced living in a dorm. There is a school of thought that all college students need to live in the dorm for the first year. It is a valuable experience, but there are reasonable concerns that would cause stress for some students.
Living in a dorm means you are at the center of the social scene on campus, friends live down the hall, and walking to class takes little time. Some students feel it represents the rules that are strictly enforced, distractions from schoolwork, and roommate drama. From lack of privacy to convenient living, staying in a college dorm has both pros and cons.
Advantages of Living in the Dorm
Living in the dorm makes the transition from home more comfortable. Busy students simplify their lives because they do not have to worry about their daily commute, grocery lists, or utility bills. There are fewer responsibilities than living in an apartment off-campus.
Aside from keeping your corner of the room tidy, there is no cleaning. Campus personnel is in charge of bathroom upkeep, trash, and maintenance. There are no hassles of traffic or finding a parking spot.
Food is provided in the university dining hall. Living in the dorm is paid for in advance for the entire semester. There are no worries about grocery money or monthly rent. Being near campus buildings means students can sleep in a little later because classes are a short distance from the dorm.
Dorm life provides campus social opportunities. Meeting new people is an excellent way for first-year students to stave off being homesick. Most dorms offer social programs, mixers, and activities that allow students to get to know their neighbors.
Parents have less say in your everyday life. Most students see that as a big plus. Having friends living a few doors down the hall make loved ones at home seem less distant. Dorms provide opportunities to get involved in campus activities through word of mouth and community bulletin boards that inform students about the events taking place.
Disadvantages of Living in the Dorm
Living in a dorm is not all convenience and fun. The lack of privacy is an issue some students find to be a struggle. They don't like to share a small space with someone else. Being surrounded by people may cause conflicts between significant others, friends, or roommates.
Students share a shower room, living room, bathroom, and often a bedroom. Two roommates with different lifestyles end up in an environment that is not psychologically healthy. Dorms offer limited customized living opportunities. The rooms are more or less box spaces with beds, desks, shelves, and closet space.
Other than hanging posters, students can't decorate to make the room seem like home. Adjustments to decor and fixtures and painting are usually prohibited. The furniture can be rearranged as long as it is not anchored to the wall or floor.
Social opportunities can be a distraction from the time needed to study. Students may need to develop some balance between time with friends, campus activities, and schoolwork.
Students who like to study in peaceful tranquility may clash with the dorm's noisy atmosphere. Living in a dorm can also be isolating. Being in the same place every day to both live and study means a student needs to experience the local culture by exploring the city.
Movies like 'Animal House,' depict college life as a constant party that includes bad behavior and lots of beer. If you live on campus, there are rules by which you are required to abide.
Most schools have specific policies about alcohol, drugs, quiet hours, overnight guests, and opposite gender visitation. Noncompliance can result in disciplinary action or expulsion — the freedom of being on your own needs to be respectful of these policies and other residents.
At first, not having to cook any meals and having everything handed to you seems great when you live in a dorm. You are eating cafeteria food three times each day. After a while, it becomes tedious to have the same food.
Dorms have mandatory breaks that require students to live elsewhere during those breaks. Staying someplace else can be problematic for students who live in another state. Students who need a year-round living space and a kitchen may benefit from an off-campus home or a rental like these apartments for rent in Macon for example.
Decide what is most important for your student life
Living in a dorm has been a traditional college experience for a long time for students who have recently graduated from high school. There are advantages and disadvantages. Drawbacks vary based on a student's objectives and personality.
Because there are both advantages and disadvantages, all students should not be required to live in a dorm. The best advice for those who do is to take advantage of outside facilities also. Keeping a balance between non-private and private will make dorm life more enjoyable.
Author Profile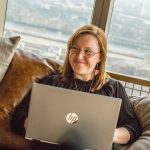 Blogger and Educator by Passion | Senior Online Media & PR Strategist at ClickDo Ltd. | Contributor to many Education, Business & Lifestyle Blogs in the United Kingdom & Germany | Summer Course Student at the London School of Journalism and Course Instructor at the SeekaHost University.