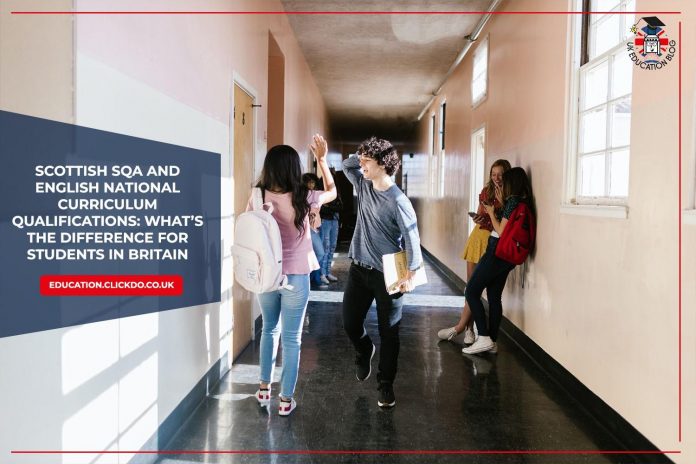 Scottish SQA and English national curriculum high school qualifications are of course connected as both are part of the UK, and have a huge number of similarities in terms of their country-specific education systems.
For many, the difference is fairly superficial – terminology and titles.  Age, stage, and level of challenge all follow and align pretty well with each other too and young people who cross the border for reasons such a family relocation – switching schools in the process – often don't take long to adjust.
Before we consider the upper end of High/Secondary School, let's look at the start of schooling first in both countries and the differences in the national curricula.
Starting School in England and Scotland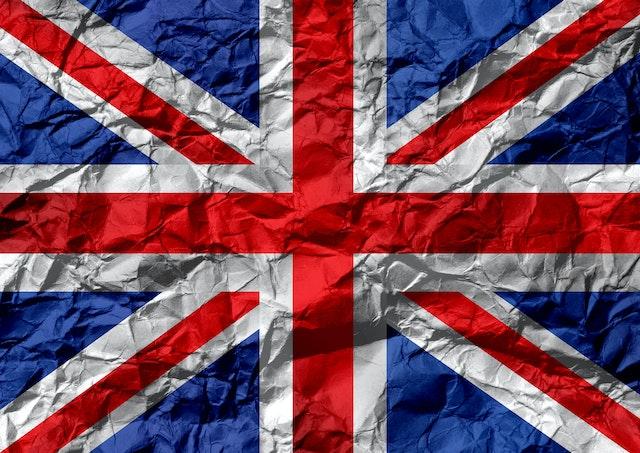 Most children all over the UK will attend some form of education before starting primary school at the age of five. In England this is known as reception, it's also known as nursery and this terminology applies to the same in Scotland.
The Scottish Curriculum for Excellence (CfE) kicks off at this point at the starting level known as the "Early Level".  In Scotland and England, a young person will move on to primary school around the age of five, completing seven years of learning.  In Scotland, this is aligned with CfE's first and second levels.  Primary years in Scotland are known as P1, P2, and so on all the way to P7.
In England, these levels are known as Year 1, Year 2, and so on, and whilst the young people here don't access the Scottish CfE, they learn very similar content via the National English Key Stage (KS) curriculum, covering KS1, 2 and in some cases 3 before completing secondary school.  Again, terminology and titles seem the main, and perhaps only difference here.
Moving into Higher or Secondary Education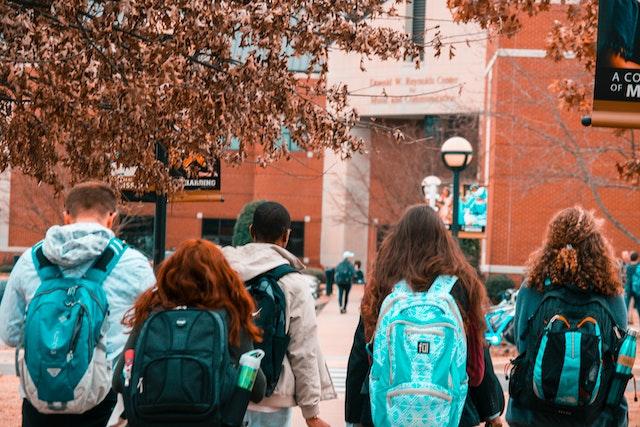 When primary is complete, everyone moves on to High or Secondary School.  This is where children in Scotland go back to one!  So, from P7, they go to S1!  For learners in England, they keep the numbers going and move on to year 8 and so on – both journeys are linear with progression, pace, content, and challenge increasing as learners move up through the levels.
The Scottish Curriculum for Excellence spans nursery, First, Second, Third, and Fourth being completed for most young people by the end of S3 – the equivalent to Year 10 in England.  It is important to note that achievement of Fourth Level CfE learning outcomes by the end of S3 can be earlier for some or later for others.  These five levels of learning in Scotland are known as the Broad General Education (BGE).
In England, year 11 is when young people prepare to embark on their GCSE courses, and in Scotland, this is the same, again though, the courses they do are known as National 4 or National 5 – depending on that young person's current level of academic ability.
The number of National Qualifications a young person in Scotland acquires in S4 (age 15/16) depends on the school they attend; some schools offer as few as 5 with others allow their learners to do up to 8 National 5 courses in S4.  National 4 courses have no final exam and are assessed internally by teachers with appropriate moderation. They are ungraded too so there is no A, B, or C, it is simply awarded or not.
National 5s however, have a final exam, which is marked and graded by the SQA (Scottish Qualifications Authority) and some subjects have coursework items that must also be sent to the SQA for external marking – English/Art portfolio or Physics and Biology Assignment for example.  These do form a weighted part of the final grade too, so are vitally important.
On completion of the GCSEs in England or National 5s in Scotland, young people can then progress to A Levels or Highers respectively.
Higher Education in Scotland and England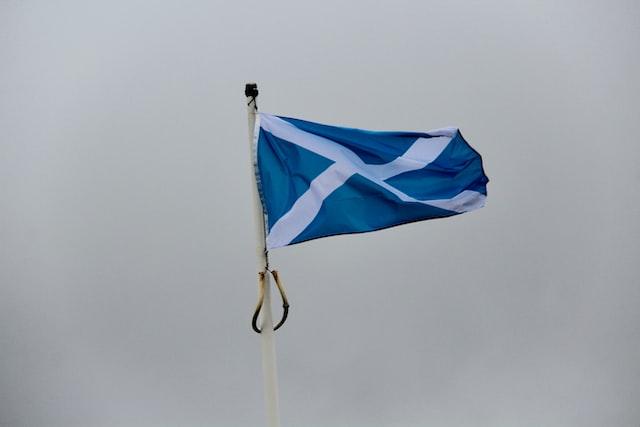 Highers vs A Levels
Scottish Highers and A Levels are the main qualifications that allow students to progress into higher education or gain employment after secondary school. Nowadays, a lot of people, parents especially, often get confused with the difference between these academic levels. We've put together this blog post to cover what these are and what exactly the differences are.
What are Scottish Highers?
Scottish Highers are the courses that students in Scotland sit after passing National 5 courses ("Nat 5s" can loosely be compared to GCSEs). Students typically sit around four to five Highers and start them in the fifth year (S5) of secondary school. Highers can also be sat in the sixth year too alongside advanced Highers, allowing students to add to the existing collection they hopefully gained in S5. Achieving the Highers and grades that are required for university at the end of S5 can land students an unconditional offer for a place on a degree course.
Advanced Highers
If students pass higher courses in S5 they can then go on to study for Advanced Highers in S6. The average amount of Advanced Highers students sit are two or three. Advanced Highers aren't necessary to get into universities in Scotland, however, they can improve chances and help students get an unconditional offer. Many Advanced Highers can replicate the level of challenge a young person will face in year one of university – they can be tough!
UCAS points for Scottish Highers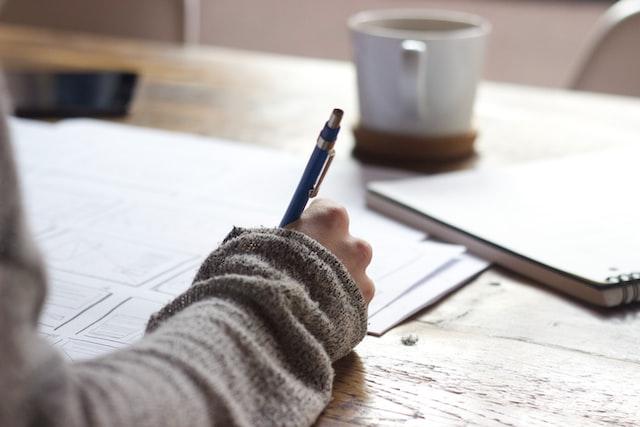 What are A-levels?
A-levels stand for Advanced Levels and these are the courses that students in England, Wales, and Northern Ireland sit after GCSE level. These courses are taught at schools, sixth-form centers, and further education colleges. Like Highers, students tend to sit three to five A-level courses.
What are AS-levels?
AS-level results would previously count towards a student's final A-level result. A2 courses would then be added on to an AS level at the end of Year 6 and each of these would form the final result of A-levels. However, this recently changed and now AS-level results no longer go toward A-level grades. They are a one-year standalone qualification.
UCAS points for A Levels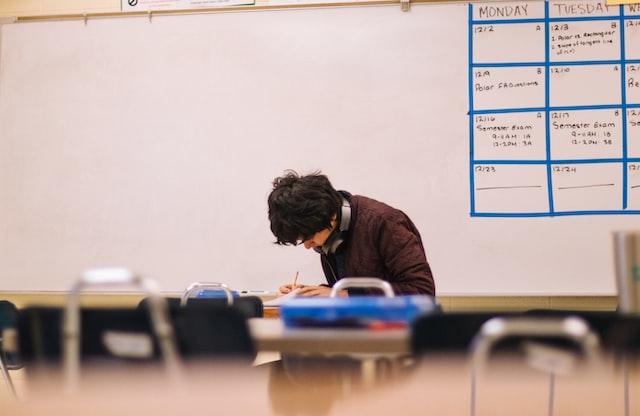 What are the differences?
A common misunderstanding is that Scottish Highers and A Levels are exact equivalents to each other. Although they are similar, there are a few differences, aside from being for students in different countries – although both in the UK and next-door neighbors!
A-levels are two-year courses: Students in England must sit A-level courses over two years, starting in year 12.
Scottish Highers are one-year courses: Students in Scotland only have one year to sit Highers. If they fail a higher in S5, they have the option to resist it in S6 – if the school allows them and the timetable can fit!
Scottish Advanced Highers are equal to A-levels: Most people assume that Scottish Highers are equivalent to A-levels. This is incorrect. When comparing the UCAS points, A-levels sit somewhere in-between Highers and Advanced Highers. In fact, the lines are blurred with all of these comparisons, but it is still useful to align them.
Higher, A-level and Advanced Higher UCAS points compared
It is important to note that most English university's entry requirements do not distinguish between A-levels and Advanced Highers.
A-level subjects vs Higher subjects
The type of subjects that students in Scotland and England can study vary greatly. Students in England can benefit from a wider variety of subjects – 123 in total.
On the other hand, Scottish students have almost half that number with 72 courses available and this number varies from school to school, with most centres offering a small range to choose from.
There are a lot of specialist subjects offered at A-level, for example, 'Biblical Hebrew'. The core offer in both countries remains the same with physics, maths, English, etc all on offer in both countries.
The SQA subject catalog can be found here
For a full list of Scottish Highers available, see here.
For a full list of Scottish Advanced Highers available, see here.
For a full list of English A-levels available, see here.
This article has been provided by the team at Saturday School Ltd, Scotland's premier tutoring school and SQA-approved education center offering tuition, revision, qualification, and awards in SQA National 5 and Higher courses.
Author Profile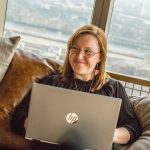 Blogger and Educator by Passion | Senior Online Media & PR Strategist at ClickDo Ltd. | Contributor to many Education, Business & Lifestyle Blogs in the United Kingdom & Germany | Summer Course Student at the London School of Journalism and Course Instructor at the SeekaHost University.