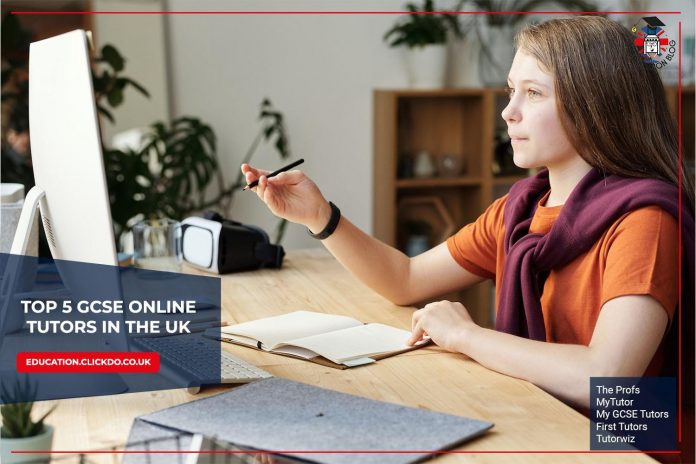 GCSE (General Certificate of Secondary Education) is a qualification exam for students at the age of 16 in the UK. There are almost 60 GCSE subjects that are available as options for students to select from with English and mathematics being compulsory subjects.
Preparing for GCSE exams is made easier when a student uses the help of subject tutors. But it may be hard for students and parents to find suitable tutors in their neighborhood. That is why online GCSE tuition is a preferred mode of learning these days.
But still, there are doubts regarding which of the many online tutoring platforms provide the best learning experience.
To save you the worry, we have curated the top 5 GCSE Online tutors in the UK for you in no particular order. Read this article to know more about the best-rated GCSE online tutors and why they are the most preferred.
Disclaimer: all cost quoted are subject to change. 
Top 5 GCSE Online Tutors in the UK
1. The Profs

It is safe to say that The Profs are the best GCSE online tutors. They offer both online and offline classes as per your liking. High-Quality classes with interactive online sessions are curated by The Profs for students to learn and benefit from.
Best Features:
Quality GCSE tutors are found on this platform. You can be assured of the quality because the tutors are made to go through a rigorous interview before being selected and admitted to this platform. Unqualified tutors are filtered out earlier and only professionals are let in to teach students. Around-the-clock support, quality professionals, and lively online classes are the specialty of The Profs.
Subjects covered:
A vast variety of subjects are covered by The Profs. For example,
Languages – English, Arabic, Chinese, Spanish. Russian
Art and Design
Psychology
Sociology
Science
Mathematics etc.
You can check out the full list of subjects covered on their official website.
Pricing:
The Profs need a small one-time registration fee of £50 for unlimited access to find tutors. Additionally, a matching fee of £20 is to be paid for each match.
Other than the above charges,
School tutoring – £60 per hour
Undergraduate tutoring – £75 per hour
Post-graduate tutoring – £90 per hour
Professional Tutoring – £105 per hour
Specialist tutoring – £120 per hour
They also provide application writing services for top universities in London at a charge of £150 per hour.
Reviews and Ratings:
The prof has gathered an excellent rating of 4.9 out of 5 stars on the average from 1000+ reviews on the website Trustpilot.
Awards and Accreditations:
Not only are they great at tutoring, but they are also great at winning awards. Some of the awards that The Profs have gathered over the years are as follows.
The Guardian Start-up of the Year – 2016
FSB Awards – Highly recommended company of the year – 2016
FSB London Business Awards – Highly Commended Best Start-up – 2017
The Great British Entrepreneur Awards – Young Entrepreneur of the Year – 2017
Education Investor Awards – Best Private Tuition Provider – 2017
Department Of Education – Open Data Competition – 2018
The Telegraph Trade Awards – Most Innovative SME Exporter – 2018
Spear's 500 – Top Recommended – 2019
Forbes 30 Under 30 Europe – Social Entrepreneurs – 2019
The Tutors Association – Best Tuition Business for Customer Support – 2022
Contact:
Website: The Profs
Call: +44 208 004 7639
Mail: enquiries@theprofs.co.uk
2. MyTutor

MyTutor is an online learning platform that provides completed online teaching for all subjects of GCSE. Being the most trusted website, MyTutor allows you to find a tutor of your choice from the list of options available.
Best Features:
The most attractive feature of MyTutor is that it does not ask for any fees until you have booked a tutor. They allow you to have a 15-minute free session with your desired tutor to find out if they meet your requirements. They have an effective filtering system through which you can filter out the tutors based on your liking. The filters let you find the exact tutor you are looking for. Along with GCSE tutoring, MyTutor also has online tutors for 11+, 13+, A level, IB, KS2, KS3, National 4 and 5, etc.
Subjects covered:
MyTutor teaches almost all the subjects covered in the syllabus of GCSE like
Art
Biology
Business studies
Chemistry
Economics
English
History and much more.
Pricing:
Prices are divided into three packages as per the teaching experience of the tutors. You can select your requirement from any of those three.
New tutors with great reviews: £20 – £29
Tutors who have been teaching for over 6 months – £30 – £37
Most accomplished tutors – £38 – £51
Reviews and Ratings:
Trustpilot is the most reliable website used by people to know reviews about companies. MyTutor has got a 4.7 out of 5-star rating on their reviews page. This speaks volumes about the reliability of MyTutor online platform.
Contact:
Website: MyTutor
Call: +44 (0) 203 773 6024
Mail: support@mytutor.co.uk
3. My GCSE Tutors

Specialising in tutoring just for GCSE students, this online tutoring platform is the first choice of all students. They provide an outstanding service in tutoring the students for GCSE.
Best Features:
All your tutoring needs are met on this single platform. Numerous tutors are available on this platform with different rates, timings, and reviews. The complete profile of the tutor is put in front of you to give you a clear understanding of the tutor. Along with that, reviews about the particular tutor are also available in their profile. This online platform lets you arrange a free meeting with your tutor to get to know more about them beforehand. The chosen tutor will be available for you to take classes as agreed once the payment is done. It is a simple and easy process to find your preferred tutor.
Subjects covered:
My GCSE tutors cover the following subjects related to the curriculum.
Languages – English, French, German, Spanish
Psychology
Science
Geography
Health & Social care
Hospitality and more
Pricing:
The price for tutors varies according to their experiences and teaching abilities. So the pricing will be based on the type of tutor you choose. It can range from £42 per hour to £100 per hour.
Reviews and Ratings:
You can find reviews of each tutor from other students on their website. Overall, My GCSE Tutors have got a rating of 4.7 out of 5 stars on Trustpilot.
Contact:
Website: My GCSE Tutor
Call: (+44) – 07838 373 004
Mail: admin@mygcsetutor.co.uk
4. First Tutors

First Tutors is a straightforward platform that is effortless to use. All you must do is go to the website, search for the tutors and you will find some amazing talents there.
Best Features:
Qualified tutors vetted with a thorough background check are only available on First Tutors. They are available in different price ranges. You can select them based on your affordability and timings. These tutors are professionals who will help you achieve your goals. Moreover, they also offer offline tuition if you prefer that. The learning experience is top-notch as told by the past students of First Tutors. This is the only learning platform that you may need for all your GCSE subject requirements.
Subjects covered:
Mathematics
Languages – English, French, German, Spanish
Humanity subjects – History, Geography, Religious Studies
Arts – Art and design, drama, dance
Technical subjects – Astronomy, business, electronics, engineering, etc.
Pricing:
The prices are based on subject, level, and tutor experience. It can start as low as £30 and go up based on their experience.
Reviews and Ratings:
Among the 4165 reviews on the Trustpilot website, most of the users have given First Tutors more than 4.5 stars out of 5. It has got an average rating of 4.7 stars on the said website.
Contact:
Website: First Tutors
Call: 0203 962 1468
Mail: enquiries@firsttutors.co.uk
5. Tutorwiz

Tutorwiz is the best online platform that teaches Mathematics and English. They not only offer online tutoring for GCSE, but also for other exams like SATs, The 11+, IGCSE, etc.
Best Features:
We can say that the best feature is that they offer a free demo for all students. We can see the quality of the tutors for ourselves and decide if we want to be associated with them. The online classes of Tutorwiz are very interactive. The student can clear his doubts and get the right support that they need during those interactive sessions. Personalised learning is made possible with weekly lesson plans.
Every Monday a new lesson plan is given for the entire week, specially curated for the student. Moreover, 24/7 tutor support is available whenever you are in need. Tutorwiz also provides you with real-life rewards like movie tickets as you learn as a motivation. They have streamlined their process which proves to be really efficient for the students.
Subjects covered:
The main subjects that are covered by Tutorwiz are
Again, these subjects are categorized into two packages
Primary – Key Stage 1 and 2 (Years 1-6) for children aged 5-11
Secondary – Key Stages 3 and 4 (Years 7-11) for children aged 12-16
Pricing:
A combined package of Mathematics and English is offered at a price of £21. For individual classes, the prices vary depending on the tutor.
Reviews and Ratings:
Tutorwiz has got a rating of 5 out of 5 stars on Trustpilot amongst hundreds of reviews.
Contact:
Website: Tutorwiz
Call: 0800 181 4221
Mail: info@tutorwiz.uk
Conclusion:
These are some of the best tutors that are teaching GCSE online. Learning the syllabus for GCSE has been made easy with these platforms. They can understand all your queries regarding the subject and are providing great services to the students. Students can check each of these websites individually, meet the tutors online and find out if they are suitable for them.
We hope this article provides you with satisfactory information regarding the top GCSE online tutors in the UK. For educators interested in becoming an online tutor, please head to our online tutoring jobs page.
If you want to get in touch with us about this post or related queries, please use the form below:
Author Profile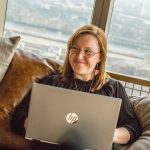 Blogger and Educator by Passion | Senior Online Media & PR Strategist at ClickDo Ltd. | Contributor to many Education, Business & Lifestyle Blogs in the United Kingdom & Germany | Summer Course Student at the London School of Journalism and Course Instructor at the SeekaHost University.