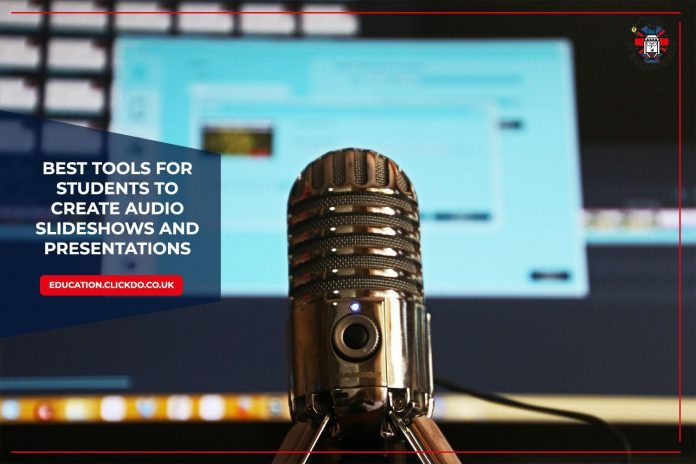 Audio slideshows are a common tool for university or school assignments.
Audio slideshows are slides, visuals, and audio. The audio plays automatically, giving the feel of a video. Audio slideshows are suitable for people who prefer listening to content or cannot access written content.
They are a good alternative for video content as videos can be bulky and take time to load on mobile devices. Audio slideshows help retain the feel of a video without the bulkiness.
The most common use of audio slideshows is on informative and academic websites, blogs, and news channels. It is also a popular format for students to submit their assignments.
Student assignments have moved from research work in a library and submitting hard copies to being presented online visually.
Online content allows students to create rich format documents that are engaging and interactive. Audio slideshows improve student engagement because of the combination of visuals and audio.
Top Tools for Creating Audio Slideshows
Tools for creating audio slideshows make it easy to create content. Audio slideshows need both picture editing tools as well as audio editing tools.
A good tool allows the students to build a strong storyline and visualise the content easily. These tools make publishing content simple and convenient.
A big part of creating audio slideshows is managing raw data. Good tools help with organising, categorising, and editing content.
They also come with extensive tutorials on subjects like 'how to make a slideshow' and advanced features like automated voice modulations.
Here are three popular tools that students can use for their audio slideshows:
1. iMovie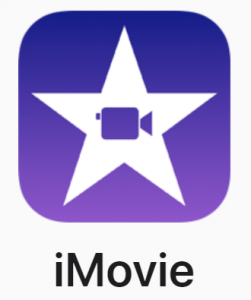 iMovie by Apple is a free video editing tool that comes with Mac. iMovie is powerful software that creates professional content. It is a tool of choice for several content creators. The fact that iMovie is a free editing tool is one of the reasons it is very popular amongst students.
One of the best features of iMovie is that it is non-linear. Non-linear editing software allows editing content without disturbing the original version. iMovie is so powerful that it is a popular tool even used by filmmakers to edit their reels. It is simple and does not need specific training or technical skills to make audio slideshows.
Like any editing tool, iMovie needs visual and audio content to be ready before processing. Once uploaded into the iMovie project, editing is simple. Cut out unnecessary parts, manage transitions, overlay audio, and voice-over. iMovie also allows recording audio directly into the project if necessary.
One important feature a tool needs to have for adding audio to a slideshow is to display the waveform. Waveform allows precise audio editing, and iMovie provides this feature in an easy-to-use manner. It is prominently visible on the bottom right of the iMovie project video.
iMovie also allows for smooth fade in and fade out of the audio. This effect gives a professional feel to the slideshow, especially during transitions from one slide to another. Apart from this, iMovie has a sophisticated sound equaliser that allows the creator to adjust bass and treble.
The biggest drawback of iMovie is that it is only available on Mac devices. However, there are alternatives like OpenShot for PCs and Kdenlive for Linux.
2. InVideo

With the growing need for videos in education, online video editing tools are getting stronger every day. InVideo is one such tool that has helped users simplify the process of video creation.
InVideo is widely prevalent among students due to its intuitive and easy-to-use interface. With 5000+ premade hand-crafted templates, this tool lets students easily transform information into audio-visual slides.
Using InVideo's slideshow maker, you can create great presentations in just a few steps. First, search your presentation topic on InVideo's template search bar. Then, pick a relevant template and customise it with your uploaded images, video clips, texts, and other media.
You can add voice-overs to your slideshow when making a presentation with InVideo. Other than that, there's also an extensive list of audio tracks that you can add to your slideshows to make them more interesting.
Scene transitions and animations are some of the other crucial factors for slideshow presentations. InVideo has a highly comprehensible video timeline that can be used to add creative scene transitions. You can also animate each element on your scene from this same timeline.
InVideo's stock library consists of 8 million+ media files from Shutterstock, Stock, and Storyblocks. You can search for relevant images, GIFs, stickers, and video clips and use them in your slideshow video.
Once your slideshow presentation is ready, you can download the video in 720p or 1080p resolution. This video can be directly shared on social media platforms. Besides, you can also generate the link for your slideshow presentation and share it with your teachers, friends, and others.
3. Canva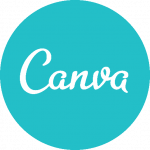 The need for editing software to create audio slideshows is growing. This need has flooded the market with several tools specifically targeting students. Canva is one of the tools that stands out due to its features and ease of use.
Though not targeting students, Canva is an effective tool for creating assignments and project documents in the student community.
Canva is a graphic designing or 3D – modelling tool. It has a rich library of visual tools like fonts, pictures, and icons. Making visual slides with Canva is fun and easy.
Once the visuals are ready, Canva allows adding voice overlays to make for easy storytelling. It works best with MP4 audio, which is one of the most popular formats anyway.
For audio, Canva is for beginners. It focuses on visual edit features more than audio ones. However, it has all the basic systems to edit, trim, and change audio speed.
Voice-overs are allowed, but they typically have a lot of background noise, no matter what tool you use. A better way is to record audio separately and overlay it on your slideshow.
Most projects get hosted on websites, and Canva optimises its files for this. Unlike iMovie, Canva needs trimmed visuals and audio before stitching them together.
Just like iMovie, Canva allows in-tool voice-over recording. This feature makes editing easy and manageable. The best thing about Canva is that it is free to use and works best on a PC.
4. PowerPoint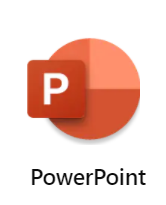 Most of us were introduced to the beautiful world of slideshows and presentations through PowerPoint.
Microsoft PowerPoint 2010 and above allows audio content in slideshows.
PowerPoint is not an editing tool. It is more of a storyboarding tool that can tell a powerful story. To use PowerPoint for audio slideshows, get all the content ready.
One of PowerPoint's most popular audio features is the ability to control when the sound plays. Showing visuals and audio can be controlled by an action such as a click. This comes in handy when the audio slideshow is not auto-play but has to be manually presented.
PowerPoint has easy-to-use basic audio features like trimming audio, looping a sound bite, fading audio, etc. Its voice-over capability is one of the best you can find.
Visuals need to be created, edited, and enhanced. Audio and voice-over need to be recorded and edited. Once all this is ready, start putting it together in PowerPoint and manage transitions. The Auto-transition feature of PowerPoint makes well-made audio-visual presentations look like videos.
The advantage of PowerPoint is that it is available free for students. The newer versions of the software allow for online collaborations and publishing.
Conclusion
The Internet has changed the way people learn. Audio slideshows use technology to showcase research work engagingly. They add depth to the topic and make it easy to understand complex concepts. They smartly use both visuals and audio to explain concepts.
While submitting projects, creating audio slideshows can be a satisfying experience. It demands research skills, logical thinking, and creativity. Apart from the skills needed for researching the topic in question, building engaging audio slideshows is a skill in itself and forms part of the many key career skills for future employment.
With so many free tools, students can create professional-grade content. Many of them are free or offer additional student and teacher discounts out of the remaining. Some even allow students to download a trial version for free. Go on and download the tool of your choice for your next assignment to be a success!
Author Profile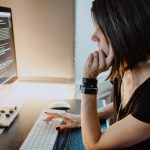 Shirley Owen is a blogger and writer who enjoys writing blogs on education, technology and general news. An avid reader, she follows all the latest news & developments to report on them through her articles.