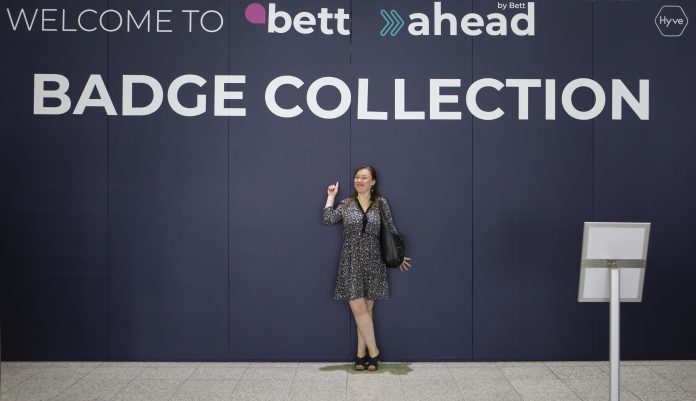 The UK Education Blog team attended this year's BETT Show at the ExCel Centre in London, where over three days 400+ leading EdTech Solution Providers exhibit, 90+ CPD content sessions take place, 300+ inspiring speakers share their knowledge together with coordinated business meetings and exclusive networking opportunities all wrapped into one.
We couldn't miss this opportunity to see what's on display, especially as some of the brands we have worked with previously were present too.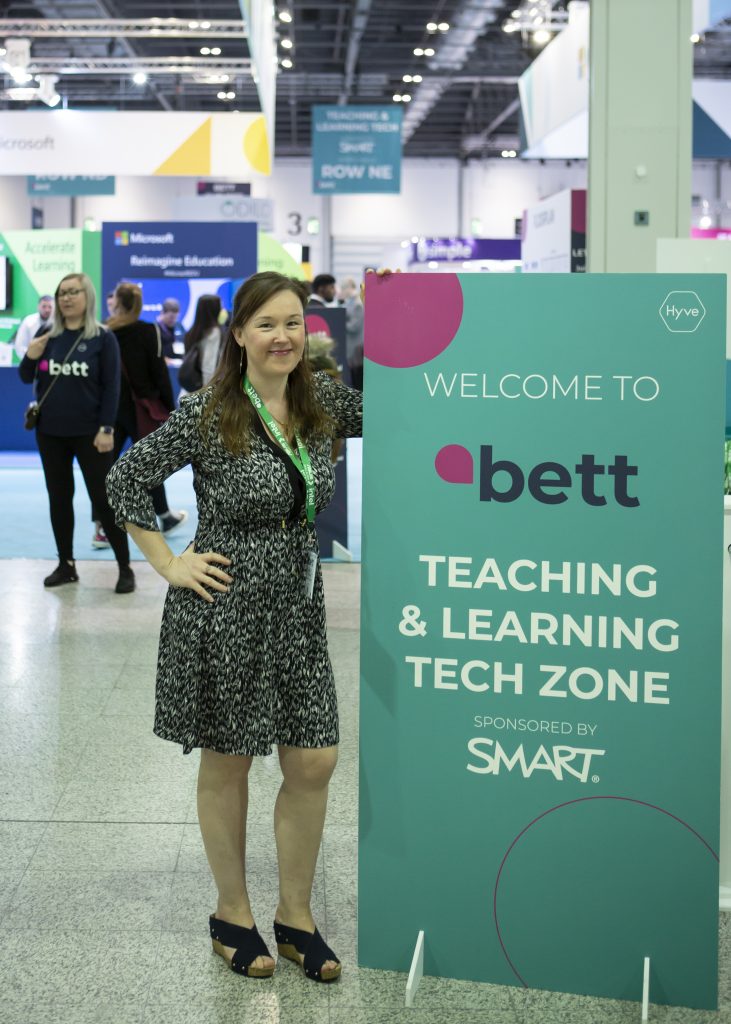 We interviewed a selection of exhibitors that fall into different EdTech categories such as education software, education programmes, education resources and learning materials and share the insights and trends they have discussed with us here exclusively.
1. Education AI
We couldn't resist to say hello to Education AI's robot and learned more about this innovative curriculum for schools that covers computational thinking, coding and robotics through online resources on the Education AI platform for teachers and students of all ages.
We spoke with founder and CEO JiaJia Wang, who was very excited to answer our questions about the platform.
We were curious to understand how the curriculum teaches especially younger children at preschool and primary levels computational thinking and coding and she explained that Education AI provides lesson plans and learning materials that are hands-on so that children can access tactile teaching aids and games online as well as offline. She highlighted the importance of social interaction and a personalised learning journey so that every student learns elements such as abstraction, algorithm, decomposition and pattern recognition at their own pace.
We were also ensured that the curriculum is mapped to the English National Curriculum to support every school with the implementation of digital literacy from preschool all the way to A-levels.
2. DrumFit
We love action and had to find out more about DrumFit, speaking with the education partnerships manager Jemma Froggitt, who was very enthusiastic about this web based curriculum. She showed us how to use the in-class equipment together with the lesson planning software and video curriculum library and we were impressed with how easily accessible it is for its users and how it also covers additional important aspects of physical learning such as yoga and mindfulness.
Jemma explained that it is a great resource for all teachers to integrate short physical activities into daily lessons or to add to the school's existing PE curriculum, including gymnastics and HIIT lessons.
DrumFit also offers CPD courses for teachers and we felt that sitting on those comfy stability balls would be worth testing in the classroom as an alternative to normal chairs.
3. Engino
Having shared some of Engino's news previously on the UK Education Blog, we didn't want to miss the opportunity to meet them at the BETT show.
We spoke with Engino's business development officer Alexandros Sisamos, who was happy to explain to us some of the construction sets, robotics and STEM solutions that were on display.
We learned that all their products can be used at home or at school and they offer what they call "the real STEM experience" through their models together with their user-friendly interactive software and apps.
When asked how they enable younger users to access their learning materials, Alexandros explained that some robotics models like the Qboidz are developed for early childhood to easily stack and click different parts together and with the free app, children can follow step-by-step building instructions in a 3D view.
We were also impressed with the STEM Qboidz set for preschool children, which covers interesting facts about each featured topic in combination with building their model, colouring related pictures and other creative activities to learn about shapes, colours and maths.
4. 2Simple
Every teacher is probably familiar with 2Simple or Purple Mash, the UK's established educational software that provides wonderfully curated creative, mathematics and computing activities even for the younger learners.
Head of Education, Mark Burrows, kindly showed us some of the new features of Purple Mash and Mini Mash, which cover the seven curriculum learning areas and in each area a range of engaging content and tools perfect for individual or group activities are available.
We were impressed by the 30 topic packs covering all the favourite Early Years topics, each containing a range of themed activities and resources perfect to use in the classroom on an interactive board or on iPads.
The student's work is saved into online trays that can be shared with parents to celebrate what their child has done at school. And the 'Teacher Tools' enable the creation of themed resources, like jigsaws, pair games and slideshows.
5. BOOKR Class
Every educator loves story time and so do we, hence why we couldn't miss exploring BOOKR Class, a platform providing a fast-growing digital library and a Teacher's Dashboard for tracking engagement and reading activity of the students. We spoke with CEO and Co-Founder Dorka Horvath and Learning and Curriculum Designer Kinga Krämer, who demonstrated how the platform works and what it features.
We learned that every student has access to over 650 books and nursery rhymes as well as 2500 educational games that enhance language skills in an immersive and playful manner.
The platform monitors each student's individual progress and assigns books and activities accordingly with an AI-based speech recognition feature.
We particularly enjoyed the interactive features that encourage children to manipulate sound effects and play interactive games linked with the stories. What also stood out was that the content is from recognised publishers such as Oxford University Press and only high-quality illustrations are used designed specifically for the users.
6. Elastik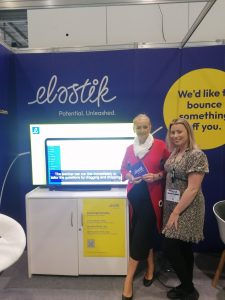 Having featured Elastik's news on the UK Education Blog previously, we headed to their stand to discuss their new platform and its features further.
Speaking the lovely Elastik team, we learned that this analytics and assessment platform for schools is designed to empower teachers to pinpoint and address unidentified gaps in their students' learning in Maths, English and Science.
The custom-built software uses the school's historic data from assessments to provide the teachers with insights into their students learning while saving time by reducing the administrative burden.
We were informed that with Elastik teachers can use the platform to access gap-bridging lesson plans, create bespoke assessments, automatically analyse multiple assessments for their class or school and view 'bubble' graphics to identify specific learning gaps.
7. Creative Hut featuring Lego
On our way out, we bumped into CreativeHUT, a STEAM Education resource and service provider, catering for learning from EYFS through to FE/HE.
We spoke with senior creative consultant Michael Lyon, who shared some of their hands on and creative resources that allow children of all ages to develop 21st Century Learning Skills and build confidence in STEAM Learning.
CreativeHUT work with carefully selected partners and industry experts such as Lego Education and Sphero in curriculum areas of Computing, Design, Technology, Science, Art and Maths. We were invited to spin their price draw wheel and won a bag of Lego Education parts, plus witnessed a demonstration of the Sphero RVR programmable robot.
They offer consultancy, training, and ongoing support for educators to enhance the full potential of their pupils.
8. Evouchers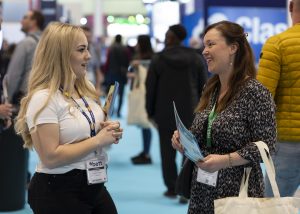 We discovered this voucher platform for schools, parents and communities while roaming through the exhibition and learned that Evouchers offers features to order, control and manage digital and physical vouchers securely and easily.
For schools and local authorities the platform helps to manage the process from live eligibility of data to DfE compliant reporting and families can receive vouchers via text message, email or by downloading them directly from the platform.
9. Canva
We ended our tour through the BETT show by watching a live demo of the online design and publishing tool Canva that is on a mission to empower everyone in the world to design anything and publish anywhere.
During the presentation we learned that Canva Education works with other go-to classroom tools and all the presentations, graphics and designs produced with the software can be imported from Google Classroom or by sharing a class link to Clever for example.
The work and assignments can also be shared or stored via Google Classroom, Microsoft Teams and Remind, or be downloaded to PowerPoint, enabling smoother remote learning and online collaborations.
We think it's fair to say that we've only scratched the surface of what the BETT show and the EdTech industry has to offer, however, by sharing some of the highlights, emerging EdTech trends and insights from the experts we met there with you, we hope you can take away some inspiration.
Here are some discount codes you can use:
www.tts-group.co.uk: BETT2022 for 10% Discount on orders from their catalogue (expires 30th of April 22).
Canva: CANVABETT2022 for 25% off print orders (expires July 22).
Follow the UK Education Blog for more information on the latest EdTech news on Facebook and Twitter or contact us for more information.
Author Profile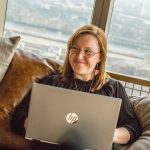 Blogger and Educator by Passion | Senior Online Media & PR Strategist at ClickDo Ltd. | Contributor to many Education, Business & Lifestyle Blogs in the United Kingdom & Germany | Summer Course Student at the London School of Journalism and Course Instructor at the SeekaHost University.