And this is just a tip of the iceberg! The average Briton still thinks Africa is a country; most can't name the continents that comprise the world today. Yet, technology has made the world a global village and with that, geography has been thrust in the middle of our day to day activities. It's important we encourage the next generation to embrace easy geography for kids early on and understand it better through an animated UK map for kids or map games for kids for example.
One powerful way that is currently revolutionising learning of concepts and skills is the introduction of children's learning apps. In the age of smartphones and iPads, children are enjoying the possibility of incorporating fun and games into learning!
Most elementary schools have subscriptions to kids educational learning apps and utilize them during lessons, but also as fun free activities during break times. Some students completely lack geographical knowledge as they move to higher levels. This is why a geography game app is a fantastic learning tool for school children and provides access to interactive map games for kindergarten too. 
We have compiled a comprehensive analysis of 5 of the best award-winning geography apps on the market today. See what primary school children can learn from these top geography apps and learn about their specific features:
I Am Learning: KS2 Geography (Available on iPad for £1.99)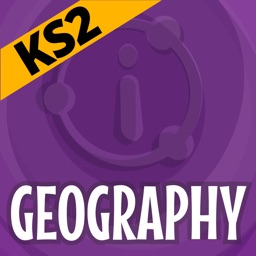 I Am Learning Key Stage 2 Geography is an engaging game-based application that equips your kids with geographical knowledge. The application is able to find a balance of power between the curriculum content and the interactive games.
It features over 1100 unique questions along with enjoyable football and "Whack a monkey" games. The games will motivate the learner to complete the revision section. The app is simplistic and very friendly to use.
2. Geo Challenge App (Available on IOS and Android app store for free, but with in-app purchases and adverts)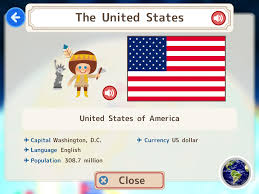 The Geo Challenge app provides an interactive platform to learning geographical details. The app incorporates a collection of fun games that allow for easy understanding of the geographical data. The flags and maps provide an excellent opportunity for kids to master world geography.
The spinning globe is an exciting game that allows users to identify countries, their flags and even population statistics. The jigsaw mode provides for easy identification of countries by shape. Flashcards and questions play a vital role in enabling the students to explore the facts about the flags and the respective countries.
The app is beautifully designed and offers interactive displays for the perfect geography learning experience.
3. GeoFlight Europe (Available on IOS and Android Play Store for $1.99)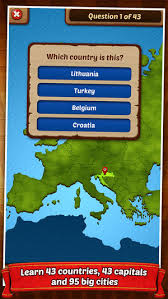 GeoFlight Europe is an entertaining and interactive app that provides a great platform to learn European Geography. From the relaxed practise mode to the thrilling time race mode, you can bet the European geography concepts will be on your school children's fingertips by the end of the day.
The main objective in the app is to fly your aeroplane as quickly as possible to the right destination on the map. You get to choose from the vast number of countries, cities and capitals to fly to.
In practice, you get to go through all 43 countries with their capitals plus a host of another 100 major cities with no time limit set. The time race mode provides an adrenaline rush as you fly against time to as many destinations as you can.
4. GeoBee Challenge (Available on iPad and Android for free)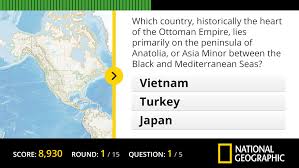 The application from National Geographic is targeted at kids around the age of 9-13 years. However, this application is not suitable for beginners as some of the quizzes might be a little challenging. This amazing tool provides an excellent platform for testing the learner's knowledge of world geography. It also allows them to pinpoint the exact location of various cities in the world.
It provides a great opportunity to prepare for geography competitions due to its comprehensive coverage. Even better the app has a 4-star EAS certification, having been reviewed by a panel of education specialists. Quite a bargain for a free app. S
5. Stack the Countries (Available on iPad and Android for £2.29)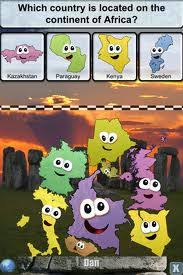 Stack the Countries is an interactive, educational geography game that provides valuable lessons on world geography. The high-resolution photos allow the students to identify major landmarks in the world today. They are also tested on capital cities, flags, languages and other vital geographical facts.
The app is presented on a beautiful platform that includes flash cards, interactive maps and over 1000 questions to be answered.
Equip your child with vital life skills for the future; geography learning apps are a great way of doing this. You can use these apps together with your children, so you're all learning together – refresh your geography memory playfully!
Check out other recommended online games and apps here:
Best 5 STEM Subjects Apps for Young Children
9 Best Free Math Apps for Kids For School Readiness
Author Profile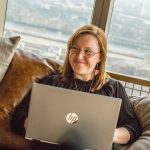 Blogger and Educator by Passion | Senior Online Media & PR Strategist at ClickDo Ltd. | Contributor to many Education, Business & Lifestyle Blogs in the United Kingdom & Germany | Summer Course Student at the London School of Journalism and Course Instructor at the SeekaHost University.