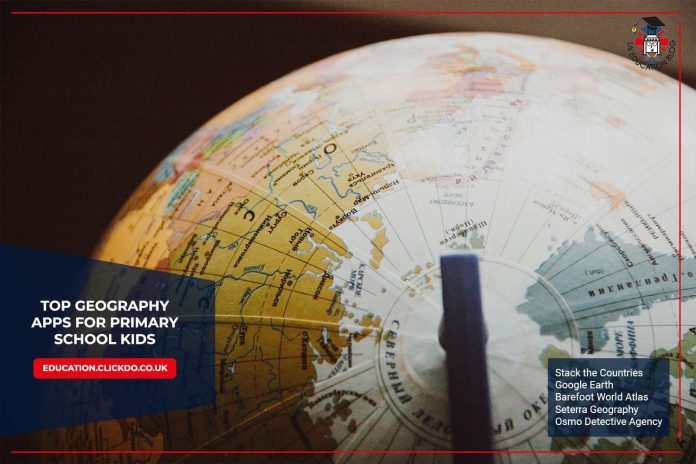 A 2008 study to raise geographical awareness found that 65% of Britons feel that the United Kingdom is made of 4 countries instead of 3 (England, Scotland, and Wales).
A decade later, in 2018, another survey revealed that 1 in 5 Brits didn't know that Europe is a continent. 
Well, that's enough to prove that we, as a country, need to brush up on our geography skills. And what's a better way to do that than start right in primary school?
In fact, the Internet is now making learning simpler, more effective, and more enjoyable.
And we have a bunch of geography learning apps that can help primary school kids learn geography, in an easy and fun way.
Read on to check out the top-rated 5 geography apps for primary school kids. 
How did we select these 5 geography learning apps?
There are hundreds (if not thousands!) of apps that are filed under the 'geography' tag on application stores. So how did we find out the top 5 apps for your primary school kids?
Well, our team carried out extensive research and found these apps based on the following criteria:
Apt for kids in primary school

Affordable for parents/teachers/educators

Good user ratings on app stores/websites

A unique set of features that promote geography learning in a fun way
Disclaimer: all app details listed are based on the latest information available at the time this post was published. 
This article is a result of independent and unbiased research by our team of in-house experts.
Read on. 
Top 5 Geography Learning Apps for Primary School Kids
Quick Summary
Here's a quick summary of the top 5 apps for learning geography for primary school kids. 
App
Age Rating
Price
What is it?
Download Link(s)
Overall Rating

Stack The Countries

Everyone

$2.99

A fun educational game that lets children stack countries and earn points for learning geography.

Apple store

4.5

1

⭐

Google Earth

Everyone

Free

Interactive app that allows users to explore the world through satellite imagery and maps. 

Play Store

4.2

1

⭐

Barefoot World Atlas

4+ years

$4.99

Engaging app for introducing children to geography and cultures with interactive maps, illustrations, and animations.

Apple Store

4 ⭐

Seterra Geography

4+ years

Free

Educational app that offers quizzes, games, and exercises to help kids learn geography.

Apple store

4.8⭐

Osmo Detective App

5+ years

Free

A unique app that combines physical play with digital learning using real-world maps and landmarks.

Apple Store

4.7

2

⭐
1 – Average user rating from Google Play Store and Apple App Store
2 – Information as mentioned on the app website
1. Stack the Countries
Age rating: Suitable for primary school kids and above.
Price: £2.99
Stack the Countries is a fun and educational geography app designed specifically for primary school kids in the UK.
Watch the game in action here. 
Key features:
Interactive game that challenges players to stack countries based on their location, flag, shape, and other features.

Comes with a 'Learn mode' that provides information about each country's population, area, capital, and other geographical titbits.

The game can be customised to help players focus on certain specific regions or geographical features.

Cool voiceovers and fun animations engage young players and make learning more enjoyable for them.

Offers comprehensive progress tracking and reward options that can be used by teachers to encourage continued learning

Scope for choosing from the multiple user profiles, making it perfect for classroom or family use.

Available in multiple languages, including English, French, German, Spanish, and more.

The app also works without an Internet connection, making it ideal for on-the-go learning.

Designed specifically for primary school kids in the UK and aligns with the national curriculum.

Affordable price point, making it accessible for schools and families.
Get Stack the Countries for iOS
Get Stack the Countries for Android
2. Google Earth 
Age rating: Everyone
Price: Free.
Google Earth is a fascinating app brought to you by Google that can be used to help primary school kids learn about geography by exploring different parts of the world and discovering new places.
Key features:
Has an interactive 3D globe that can be zoomed in and out to view different locations.

Lets users search for specific places and landmarks.

Comes with a Street View feature that allows users to virtually walk through streets anywhere in the world. 

The Layers feature can be used to display different types of information, such as weather, traffic, and satellite imagery.

Users can create custom maps and save them for future reference.

The Flyover feature lets users virtually fly over landscapes and buildings.

Using the time-lapse feature, users can see how a location has changed over time, thus, adding a historical touch to geographical learning.

Information cards that provide details about landmarks and places.

The Voyager feature offers guided tours that have been created by experts.

Also includes classroom resources that provide lesson plans and activities for educators
3. Barefoot World Atlas 
Age rating: Suitable for children aged 4 and above.
Price: $4.99
Barefoot World Atlas is a beautifully-designed interactive atlas app designed by Barefoot Books. The apps can help children learn about different countries and cultures around the world.
Key features:
Features an interactive 3D globe that can be rotated, and zoomed in and out to view different locations.

Has high-quality graphics and animations that make learning more engaging for its young audience.

Offers a vast pool of information and statistics about countries like their flags, currencies, languages, and more.

Has interesting narration and music that enhances the learning experience to make it fun. 

Includes interactive games and quizzes that test children's knowledge and assess what they have learned so far.

Users can also create custom tours and save them for the future.

Has in-depth articles about different cultures and countries.

Also works in the Offline mode that allows children to explore the app without being connected to the Internet.

Available in multiple languages, including English, French, German, and Spanish.

The app has been designed with input from teachers and educational experts and aligns perfectly with the national curriculum.
4. Seterra Geography 
Age rating: 4+ 
Price: Free
Seterra Geography is an educational app that helps children learn geography, countries, and their capitals with ease. The app offers different modes that cater to different learning styles and abilities.
Learn to locate 12 famous landmarks in Europe in our map quiz: https://t.co/ztFknvr76X

Acropolis, Belém Tower, Big Ben, Brandenburg Gate, Colosseum, Eiffel Tower, Hagia Sophia, Leaning Tower of Pisa, Neuschwanstein, Sagrada Família, Saint Basil's Cathedral, and Stonehenge. pic.twitter.com/WrLBpaiokX

— Seterra Geography (@SeterraGeo) April 4, 2022
Key features:
Covers all types of coursework and geographical exam levels.

Includes different game modes, including quizzes, timed challenges, and map exercises, to help children learn in different ways.

4,000+ geography quizzes and exercises.

Comes with multiple difficulty levels that cater to children of different ages and abilities.

Teachers/parents can customise the quizzes to help children focus on specific regions or topics.

The app can be accessed offline as well. 

Post learning about countries, users can quickly test their memory with interaction map identification. 

High-quality graphics and animations have been used to make the experience enjoyable. 

Features leaderboards and achievements that use the spirit of competition to help children continue learning and improving.

Allows zooming into even the smallest islands that dot the maps

The app is free to download and entirely ad-free. 
5. Osmo Detective Agency
Age rating: 5+ 
Price: Free
(The physical version of the game costs $49 and needs an Osmo base to play, which costs $39)
The Osmo Detective Agency app is an educational game that combines physical play and digital learning to teach children about critical thinking, deduction, and problem-solving. All while exploring different regions and geographies.
Key features:
Features an interactive game that allows children to solve mysteries and crimes by collecting clues and analysing evidence.

Built using interactive artificial intelligence technology.

Includes virtual travel to 6 countries and tracing clues while learning about the country's geographical locations and landmarks.

The physical game pieces are used to interact with the digital game on the Osmo base. This ensures that children also spend quality time with family/friends and not just on their devices. 

8 maps, a map holder, and a magnifying glass come included when you purchase the game. 

Includes multiple game modes, including Story mode, Free Play mode, and My Detective mode, that are suitable for different learning styles and abilities.

Has an adaptive learning algorithm that automatically adjusts the difficulty level based on the child's performance.

Includes various themes and storylines, for example, Monster Mansion, Detective Agency, and Secret Pizza Party, that keep children engaged and motivated.

Custom profiles can be created for multiple players. This makes it perfect for families and classrooms.
Get Osmo Detective Agency app for iOS
Get Osmo Detective Agency app for Fire tablet
Let the Geography Fun begin
With that, we have come to the end of our list of geography learning apps for primary school kids. And now it is time for you to start downloading the most suitable app for your kids' needs.
With these geography learning apps, your child can learn geography while enjoying it to the fullest. 
Check out other recommended online games and apps here for more learning fun:
If you want to get in touch with us about this post or any other related queries, please use this form:
Author Profile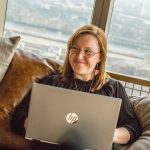 Blogger and Educator by Passion | Senior Online Media & PR Strategist at ClickDo Ltd. | Contributor to many Education, Business & Lifestyle Blogs in the United Kingdom & Germany | Summer Course Student at the London School of Journalism and Course Instructor at the SeekaHost University.