If you're considering to do a degree at a university in England then you should carefully analyse your financial options to fund your studentship. As mentioned in my last article "Does it still pay off to go to university" the current annual fee for home and EU students in England is £ 9,250 at any university for undergraduate students (postgraduate courses can vary in fees). International students often tend to pay more than home students, but fees also vary so it's good to compare.
On top of this you obviously have to live. Meaning, you have to think about how much you'll spend on rent, bills, expenses and so forth. This can all add up to an average of up to £50,000 for a 3-year course and the question is really how can you finance such a sum?
5 top tips to finance your studies
#1 Get a tuition fees loan
Everyone can apply to Student Finance England for a loan to cover tuition fees (paid directly to the university) and maintenance costs (paid directly into your bank account at the start of term). This is available wherever you choose to study in the UK and is repayable. You don't need to have a confirmed offer of a place at uni to start the process. Apply here: https://www.gov.uk/apply-online-for-student-finance
This is a guaranteed way of making sure your main student cost is covered. See this overview by Martin Lewis, the moneysavingexpert.com, to understand how these loans work:
Example: Borrowing £9,250 for fees & £8,430 living costs per year, so £53,040 in total. With 3% inflation & graduate earnings growing at inflation + 2% per year.
Starting salary
(Aug 2017)
Salary in 30 years
Total amount repaid
Will I fully repay it?
£10,000
£41,000
Nothing (i)
No
£15,000
£62,000
Nothing (i)
No
£20,000
£86,440
£350
No
£21,000
£90,770
£2,250
No
£25,000
£108,050
£19,840
No
£30,000
£129,660
£49,730
No
£35,000
£151,270
£179,750
No
£40,000
£172,880
£109,770
Yes – 21 years
£45,000
£194,490
£139,790
Yes – 26 years
£50,000
£196,010
£154,330
Yes – 29 years
(i) Assumes student loan repayment threshold goes up in line with our assumption of average wages increase.
As you can see the good thing about this loan is that the repayment is dependent on your earnings after your graduation. If you can roughly predict how much you'll be earning after university then you can work out whether this will be a feasible option for you.
Check the student finance calculator to calculate your overall estimated cost and be honest with yourself – add in realistic numbers based on what you know you'll spend (do research on the living cost in your prospective student destination)
#2 Apply for bursaries
Some course providers offer their own bursaries to help students progress in their studies. However, these are limited to certain subjects or courses often, depending on what you're specialising in. To see what bursaries are available at your university, college, or conservatoire, contact their student services office or visit their website. Bursaries normally don't have to be repaid as they're like grants. They are usually aimed at supporting students with lower household incomes.
#3 Get a scholarship
Similar to a bursary a scholarship is also non-repayable. Because of this it is often harder to get it, but it's certainly worth trying. Depending on your individual circumstances with regards to your family situation (household income) or your course choice you can find specific scholarships aiming to offer targeted support. They can be given for all sorts of reasons and by many different types of organisations. Some of the reasons are as follows: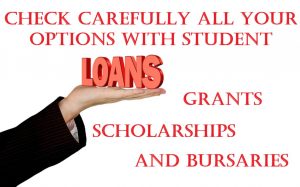 Academic merit
Financial need
Sporting achievement
Musical talent
Personal circumstances – where you live, what your parents do, your extra-curricular activities/interests, your career aspirations
A company wants to promote themselves to students – often all these scholarships will require you to do is submit and essay on a subject related to their business.
Check out this website for more information on your scholarship options: https://www.thescholarshiphub.org.uk/ or for postgraduate students this is a useful website: https://www.postgraduatesearch.com/funding
If you're willing to study a year abroad within the EU the Erasmus scheme offers financial support for 33 participating European universities and grants are available from the British Council.
#4 Apply for a grant
Educational Grants Service offers students, especially disadvantaged ones, the chance to get grants of £200 to £300 to start or continue their education. These can give you extra support on top of a loan, but you have to check the eligibility criteria. Learn more about other grants for specific needs/circumstances like disabilities for example here: https://www.disabilityrightsuk.org/fundinghighereducation
#5 Choose a funded route
If you're thinking about training for a profession that receives national funding then check for specific student's bursaries:
Think outside the box and go for other routes
Many organisations and universities across the world offer free online courses on topics such as business, culture, literature, history, health, teaching, law and more.
FutureLearn (owned by The Open University) and Coursera both offer access to 100s of free online courses which each last anything from one week to twelve or more. You'll complete modules each week, sometimes followed by a short quiz and there's sometimes opportunity to get or purchase a completion certificate at the end of the course.
An alternative e-learning provider is ALISON with over 750 free online courses in a huge variety of topics from financial literacy to fitness and nutrition. Although there is the option to purchase a certificate upon course completion you can also download a 'Learner Record' for free.
If you want to still be enrolled with an elite university, check if they're offering online courses in your area of interest. That way you can at least save money on your living cost as you don't have to live there. The Open University is an established online university and all their courses can be completed online. Check their fees and funding options to see if they are a good alternative financially.
Bare in mind that increasingly more learning and training is offered online and carefully consider the subject you want to study before you decide to fully commit. If you prefer to learn hands on while you study or train, there are apprenticeships online accompanied by online courses like at ClickDo Academy. Here you are given the opportunity to learn everything about digital marketing and SEO while working and eventually earning once you've established your own blog or website. ClickDo are currently working on a virtual internship programme so keep on the lookout for such opportunities. It's always good to make some extra cash on the side while learning or studying so you don't just rely on the money you have borrowed. Hopefully now you feel more aware of the options at hand and you can make educated choices about your learning journey. Good luck!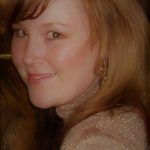 Blogger, content writer and strategist
As an educator, blogger and content writer I have developed a great interest in e-learning, education technology, the digital economy and media. I regularly write for and manage various blogs and work for digital marketing agency ClickDo.